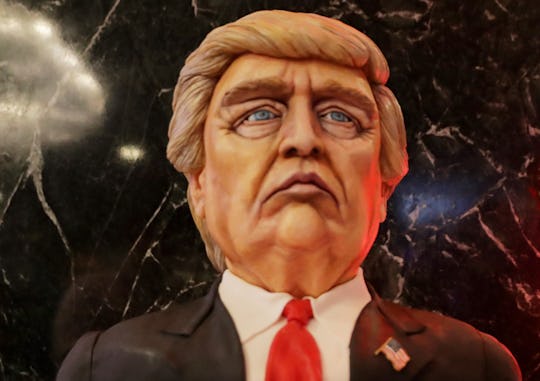 Chip Somodevilla/Getty Images News/Getty Images
Who Made The Trump Cake? And Are They OK?
It seems fitting that one of the most puzzling election memes of 2016 emerged on the very last day. As voting was winding down for the day, spectators at Trump Tower reported that a special treat was being wheeled in: a cake, in the shape of Donald Trump's head. The internet immediately freaked out, created a zero-hour meme, and starting asking who made the Donald Trump cake? And are they OK?
The quest to find out who was behind the interesting confection got traction on Twitter after ABC News reporter Jason Volack tweeted a picture of the cake on its way into Trump Tower. It almost immediately got the meme treatment, mostly because of the expression on the Trump cake's face. The pastry chef who created the cake, Melissa Alt, told Inverse that she was pretty surprised by all the attention the cake was getting. Alt, a graduate of the Pratt Institute, specializes in cakes. And, as it turns out, Alt confessed to Inverse that she actually made a celebratory cake for Hillary Clinton first — then decided it would be fun to make a matching bust-style cake for Trump. Her manager informed Trump's campaign and... well, the rest is history.
Alt, who is 24 years old and owns her own cake business in New Jersey, told The Boston Globe that she hadn't actually seen the influx of comments on the cake after the original tweet was posted — but was happy about the attention.
Alt mentioned in her interview with Inverse that the process of making the cakes was pretty grueling: "It took me like 20 hours to sculpt just the heads," she said.
"I'm so happy and still in shock, it's so nice to see how much people react and enjoy my art," Alt told The Hollywood Reporter, adding that the construction of the cakes took 50 hours a piece.
The memes, however, only took mere minutes to manifest once the picture of the cake arrived on Twitter, and range from pop culture nods, to historical homages, reimagining classic art, and a few just plain bizarre ones:
Some of the memes created a meme-ception when they actually referenced other memes:
Election night, notorious for dragging on into the wee hours of the morning, was made just a little more bearable by the #TrumpCake meme. And hopefully for Alt, it will lead to a lot of new eyes on her website and maybe some cake commissions, too. Anyone who can devote more than two days of their life to carving the faces of dueling politicians into cake deserves our collective respect and support.