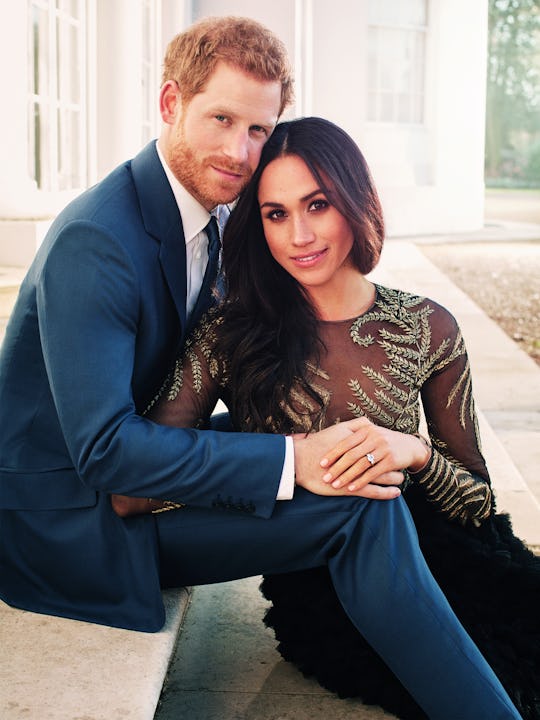 Handout/Getty Images Entertainment/Getty Images
Who Meghan Markle Reportedly Wants To Walk Her Down The Aisle Is So, So Sweet
Ever since Meghan Markle and Prince Harry announced their royal engagement back in November, the world has been completely enamored with all things Royal Wedding 2018. And now that a wedding date has been set, more plans for the big day are finally falling into place,including who Markle reportedly wants to walk her down the aisle on their wedding day.
Markle is reportedly considering asking her mom, Doria Ragland, to do the honor of walking her down the aisle on her big day, according to an anonymous source who spoke to Us Weekly. "I've heard that Meghan wants her mother to walk her down the aisle, which would be a sweet moment," the source told the magazine.
While Markle herself has yet to chime in on these claims — nor has her family — it's still sweet to know that the actress is potentially considering it. After all, tradition deems that the father be the parent to walk the bride down the aisle and "give her away" because, ya know, patriarchy or whatever. But it seems as though Markle is down to ignore tradition and the patriarchy and tap in one of the most important people in her life to take on the important role at her wedding.
Because really, planning a wedding is already a stressful situation, and planning a royal wedding is likely a royal nightmare on some levels. And after all shouldn't the bride be able to have at least some control of what she wants? Well, usually, that's a pretty easy question, but unfortunately, when there are thousands of years of tradition to consider, it isn't that easy. And that's something that Us Weekly's source touched on as well:
With the wedding, they both want to do things their way. While they will always be mindful of traditions and the views of their elders, the day is ultimately about them and what they want to do. The day of the wedding itself will certainly hold a few unconventional surprises. Don't expect a royal wedding by numbers. They want to involve their friends and family as much in as much as possible throughout the day.
Additionally, Markle's possible decision to have her mom walk her down the aisle, wouldn't be too surprising. In an August essay for Glamour, Markle listed her mother as one of the 10 most inspirational women she looks up to.
According to Markle's Glamour essay, her mom is "a yoga instructor, but she does social work, as well, and she works specifically with the geriatric community." And it is in her mom's passion for her work where Markle finds so much to look up to. And it doesn't hurt that she also thinks of her mom as more than just a mom. "We can just have so much fun together, and yet, I'll still find so much solace in her support," she wrote in Glamour. "That duality coexists the same way it would in a best friend."
However, there's a possibility that Markle might not ask her mom to do the honor of walking her down the aisle. According to Us Weekly, Markle's half-sister, Samantha Markle, spoke of their father's excitement of Markle's engagement and that he would be thrilled to walk her down the aisle, as well. "I'm sure he wants to walk her down the aisle. I know he wants to do it," she told the publication. "He's a shy guy now, he's a quiet man, but he'll speak when he feels it's appropriate. He gave me permission to say how happy he is, but he'll talk when he's ready."
Markle's parents divorced in 1987, and what can seen on her own Instagram page, it seems as though she's somewhat closer to her mother than her father. But, royal watchers might just have to wait until the big day (on May 19, according to People, to be exact), to find out who is accompanying Markle down the aisle. Because who knows? Maybe they'll both walk her down the aisle. Or maybe she'll walk herself. After all, it's 2018.
Check out Romper's new video series, Romper's Doula Diaries:
Watch full episodes of Romper's Doula Diaries on Facebook Watch.