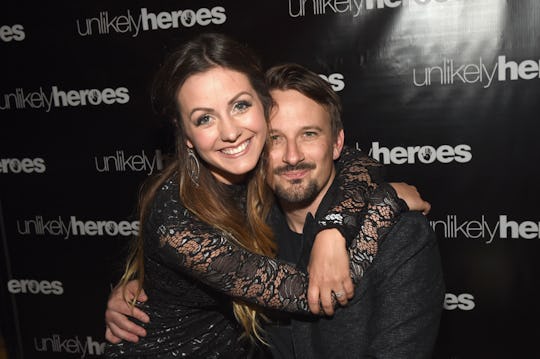 Rick Diamond/Getty Images Entertainment/Getty Images
Carly & Evan's Wedding Was A Lavish Affair On 'Bachelor In Paradise'
I'm told that traditionally, the bride's parents are supposed to pay for the wedding, though that tradition has definitely gone by the wayside somewhat in recent years. But what about couples who get married on TV, like in the case of two certain Bachelor Nation favorites who tied the knot during the second night of Bachelor in Paradise? So who paid for Carly and Evan's wedding on Bachelor in Paradise? I have a sneaking suspicion that Carly and Evan's folks didn't pay to fly everybody to Playa Escondida, where Bachelor in Paradise just so happened to be currently filming, just so that ABC could add 40 minutes of fluff to this season's second episode (filled with previous wedding ceremony flashbacks and all).
In a statement to People magazine, the couple said that, "There was no better way to celebrate the start of our forever journey together. The setting, in a garden overlooking the ocean, created a stunning visual that I don't think anyone will forget. Evan's children delivered heartfelt and hysterical speeches that had everyone laughing and crying simultaneously. The love from Bachelor Nation has been overwhelming and we are so grateful to all who helped make this day amazing." And honestly, it was pretty adorable.
ABC has not said whether or not they were the ones footing the bill, but I am somewhat skeptical that Carly and Evan were the ones to pay Chris Harrison of all people to officiate. As a matter of fact, the couple could have actually made money from their televised ceremony, if Bachelor Nation precedent is anything to go by.
It was reported way back in 2013 by E! News that Catherine Giudici and Sean Lowe were going to make somewhere in the six-figure range. It was never reported for sure whether "Bachelor Royalty" Jade Roper and Tanner Tolbert paid for their wedding or if ABC covered it, but most seem to speculate that the network paid for their nuptials. Obviously if the couple had chosen to be married without cameras present, they would have paid for their own wedding. However, since ABC stands to actually profit off of this ceremony by airing it, I find it hard to believe that they didn't pay for at least some of it. Because it truly was a very Bachelor branded affair, complete with contestants from former seasons, Chris Harrison, and the beach where everyone watched them get engaged.
All kidding aside, it actually doesn't matter who paid for the wedding. This odd couple that nobody thought would make it really did get married and I, for one, wish them nothing but the best.