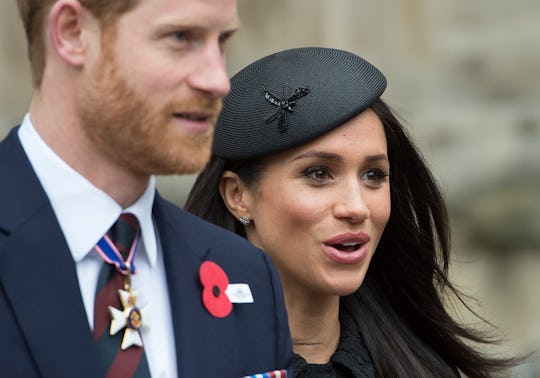 WPA Pool/Getty Images Entertainment/Getty Images
Here's Who Actually Foots The Bill For The Royal Wedding
We are just over a week away from the biggest media spectacle of the year -- the Royal wedding between His Royal Highness Prince Harry and the living embodiment of every Disney movie, Meghan Markle. (Well, her parents are alive, so it's better.) Their wedding is no small barn party with a backyard barbecue. It's an affair slated to be even more spectacular than William and Kate's nuptials a few years back. Traditionally, the wedding is paid for by the father of the bride, but definitely not this one. If you're curious as to who pays for the royal wedding, keep reading.
In the case of some British Royal Weddings, the tab is picked up by Kensington Palace. I'm sure this is a big relief for Meghan Markle's parents, who are, absolutely, just like you and me, says Vogue. Her mother, Doria Ragland, a yoga instructor and social worker, lives modestly in California, while her father, Thomas Markle, is a retired lighting engineer. Funnily enough, he used to bring his daughter with him on the set of Married With Children for some incredibly unusual father/daughter bonding time. While they're likely not poor, the estimated $45 million the palace will be spending on the wedding is enough to make any middle class family fall over in a fit of hysterical laughter -- or tears.
But where does Kensington Palace get its pounds? That's where it gets a bit more complicated. According to Insider, the sources of their estimated yearly £300 million cost of living comes from public and private funding based upon a system of investments, properties, and taxation of the British citizenry. The Queen is given a yearly "Sovereign Grant" which is paid out by taxpayers each year that totals around £40.1 million. How it works, according to the British Royal Crown estate is that of all of the holdings owned by the monarchy, currently totaling over £328.8 million annually, are surrendered to the United Kingdom. From that money, 15 percent is then granted back to the Queen for personal use and to keep up her personal estates, pay for the staff, and buy those awesome neon skirt suits she's so fond of. Also, since 1992, she's been contributing taxes voluntarily to the British empire, even though she's exempt from the practice.
The heirs of England, Princes Charles and his children are paid through what is known as the Duchy of Cornwall. That's an estate holding and investments that bring in £33.5 million according to the British Government. The Crown Prince does pay taxes on this every year, but not any surplus that it might create. This money is divided up as the Duke sees fit, but we can speculate that a goodly amount of that money this year will be spent on adorable wedding short pants for George and a fantastic hat for the Duchess of Cambridge.
Who pays for the royal wedding of the unfamous royals? Well, according to the government, it comes out of their own allowances or personal income. Sorry, Princess Eugenie, you're just not as flash as Meghan and Prince Harry. Although, you're still a bloody princess, which is far more than I can say.
When it comes down to it, the Palace has always had deep pockets. It's not Gates or Bezos money, but it's serious coin. They're not going to sneeze at a mere £32 million when it comes to Prince Harry and Meghan's special day. I mean, the playboy prince is finally settling down, and he's going to do it in grand style. I don't think his Grandmum would deny him anything to see it happen. Thankfully, all us pleebs can watch it on TV in our pajamas.