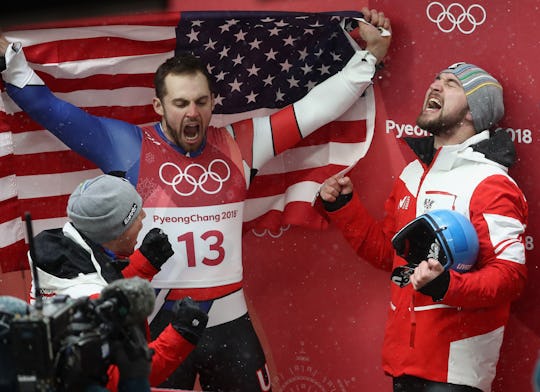 Ezra Shaw/Getty Images Sport/Getty Images
Here's Who's Paying The Olympic Athletes You're Rooting For This Winter Games
Ah yes, the Olympics. A time of sportsmanship, revelry, and patriotism. A time of fame and athleticism and daydreaming about which athletes are single. Now, it's no secret that being an Olympian is pretty fantastic, but as far as who pays the 2018 Olympic athletes, that much is kind of questionable. After all, it isn't like all the athletes at the games get a huge check from their government for participating in the events. Well, not in the United States anyway.
Listen, I'm all for having a healthy amount of curiosity when it comes to wondering about celebrities and famous athletes, so I totally get wanting to know all about how much olympians make and who pays them. But the thing is, it's kind of complicated. According to USA Today, Olympians aren't all just raking in the big bucks. In reality, the United States government and tax payers don't put anything towards paying Olympic athletes. Instead, an money that they earn from medaling in their event comes from private donors and organizations dedicated to rewarding them.
So no, just like taxpayers aren't paying for women to get abortions at Planned Parenthood, they also aren't paying the salaries of Olympic athletes, no matter what you angry uncle tries to mansplain to you at your grandparent's house.
Obviously it seems as though Olympic athletes just have the world at their fingertips, but it isn't that simple. According to USA Today,
They're never going to get rich off their sport. It might, in some cases, even cost them. The biathletes, the curlers, the ski jumpers, the lugers and the Nordic combined athletes — they scrape by with help from their families and federations, juggle training with part-time jobs.
While some may get lucrative endorsement deals and sponsorships, pretty much all United States Olympians have to fend for themselves. In fact, the United States is one of the few governments that doesn't pay their Olympic athletes.
Yeah, and it's actually more complicated than that. You see, United States Olympians are paid, but not by the government. As Good Housekeeping reported,
The USOC's "Operation Gold" has incentivized athletes with fat wads of cash since the 1994 Olympics, and kept up with the payouts ever since. Gold, silver, and bronze placements earn $37,000, $22,500, and $15,000 respectively.
So the answer to the question of who pays the 2018 Olympic athletes is partly answered. As far as the United States is concerned, anyways, athletes earn money mainly through sponsorships, as well as Operation Gold. But every country is different, and some offer a lot more incentives to their Olympians.
For example, as the website Wales Online reported, Singapore recently saw one of its own become the country's first gold medalist, and that athlete definitely saw the perks of being an Olympian:
When Joseph Schooling won the gold at this year's Olympics in swimming's 100 metre butterfly, he became Singapore's first gold medallist. He also got a windfall of $1,000,000 Singapore dollars, or about £570,000, from the Singaporean government.
Yeah, that's a lot of money. But again, it isn't too common for Singapore to produce gold medal winners. For the United States, though, with nearly 3,000 total medals, it makes sense that athletes aren't compensated by the government. After all, that would be a lot of paychecks going out each year. And when athletes like Michael Phelps and Lindsey Vonn have net worths in the millions, it seems to be working out pretty OK for them that they aren't getting paid by the government. I mean, obviously being an Olympic athlete is pretty hard work, and they deserve to be rewarded for that.