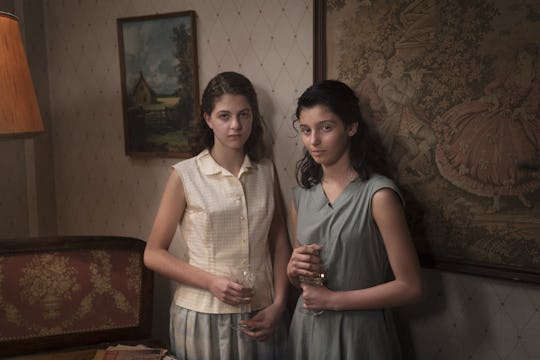 HBO
These Are The Impressive Actresses Playing Elena & Lila in 'My Brilliant Friend'
As the HBO miniseries My Brilliant Friend, based on the novel by Elena Ferrante, comes to an end, it's easy to see how far the central characters have come. Two sets of actresses have portrayed the girls, in order to show the passing of time. Since they command most of the screen time, fans want to get to know the young women who play the teen versions of Elena and Lila on My Brilliant Friend, Margherita Mazzucco and Gaia Girace, respectively.
First, it's important to note that neither of the girls has ever been on a TV show. There is a lot on the plate of these inexperienced actresses. Though Elena (Lena, or Lenù) and Lila are teenagers in age, they are essentially considered adults. Having grown up (and, at times, grown apart) in their small Naples village, this is the norm, and plans for the future (read: marriage proposals) mark a turning part in their lives.
The actresses, along with their younger counterparts, were selected for their similarities to Elena Ferrante's characters, both physical and in personality. Writer and director Saverio Costanza cast only Neapolitan actors in the show, as to align with Ferrante's vision as closely as possible. Despite being unfamiliar with the process, the adolescent girls found ways to connect with the characters they brought to life.
On set, Mazzucco had a wonderful educational experience, much like the real Elena who was supported by her teacher, Maestra Oliviero. "She was my Latin, ancient Greek and Italian teacher and she told me I could do both things, I could study and could film. I would film and then go to school and take my tests and she treated me like every other student."
Interestingly, the 15-year-old actress had to wear costumed padding in order to play the curvier Lena — the focus on puberty and the changes that come with it was especially prevalent at times throughout the novel, with Lena subtly drawing a parallel between her rapidly growing body compared with the slight physique of her best friend and the deviation in their friendship during that time.
Like Mazzucco, Girace admits that she and Lila are very similar. "I'm as determined, as insecure and as fragile as she is." But she may not be quite as intense as the character, during filming, Costanzo directs Girace to "have the eyes of crazy person" during one scene.
This fits with what was said about her in her Vogue interview about My Brilliant Friend, where the writer describes her as "a quiet and even bashful girl." However, like Lila, she can be secretive. Rather than telling all of her friends about earning the coveted role, she explains that playing Lila was "a personal thing" for her.
Though they can't truly understand what young women went through during the time period depicted, the beautiful things about Ferrante's books (there are three more in the Neapolitan Novels trilogy continuing to follow Lena and Lila, which may well receive the HBO adaptation treatment as well) is that though the situations and expectations are different, the friendships are timeless, and very, very relatable. If Girace and Mazzucco can continue to focus on that, their performances will be lauded for years to come.
This first-time mom wants to have a home birth, but is she ready? Watch how a doula supports a military mom who's determined to have a home birth in Episode One of Romper's Doula Diaries, Season Two, below. Visit Bustle Digital Group's YouTube page for the next three episodes, launching Mondays in December.