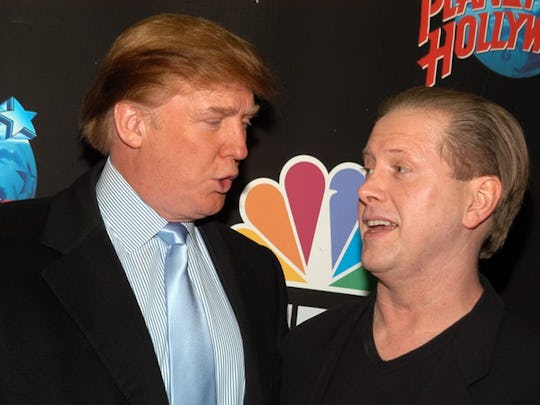 Who Played Donald Trump Best On 'SNL'? Taran Killam Is Killing It, But He's Not The First Comedian To Impersonate The Donald
When I was asked to get to the bottom of who played Donald Trump best on SNL, I thought: This is the type of assignment I was born for. This is the type of assignment I was made for because if there is one thing I do — and do well — it is sit my ass on the couch and watch TV. (Don't judge; after a long day of work you know you want to do it too.) I just rarely do it anymore; that is to say that with a two-year-old I rarely watch TV meant for a more adult mindset. But enough about me; let's get to the point: Who trumped Donald Trump? Who, on SNL, played him best?
First, let's review the contenders: In one corner of this strange triangle we have Phil Hartman, the first — and forever classic — Donald Trump impersonator. In the second corner we have long-time favorite Darrell Hammond, or in the final corner is newbie Taran Killam. 
So kick back, relax, and loosen your silk tie and watch as we pit these performers in a head-to-head battle to the death. (OK, I'm exaggerating. This isn't The Hunger Games, but you should make sure a can of hairspray ready because this is sure to be one heated contest — which can proof dangerous for "the poof.")
Phil Hartman: Played "The Donald" from 1988 to 1990
Phil Hartman played Trump in 1988 and in 1990, during his infamous scandal with Marla Maple and, again, during his divorce from Ivana. In each sketch, his eyebrows were unruly, his suit was neatly pressed, and he donned that signature coif we have all come to know — and hate — but what struck me most was his voice. Of the three comedians I reviewed, his voice was the one that immediately resonated. It was the one that struck me as the "most authentic." (And this is coming from me, a huge Darrell Hammond/Trump fan!)
Darrell Hammond: Played "The Donald" from 2004 to 2011
Let me start this off with an admission: I am totally biased here. Darrell Hammond is the Trump of my generation. He was part of the SNL cast during my college party days. He was a part of what I revere as the great SNL resurgence, starring alongside the likes of Will Ferrell, Tracy Morgan, Tina Fey, Jimmy Fallon, Amy Poehler, and Maya Rudolph — to name a few. And he got to play Trump during a fun time: i.e. he got to mock "The Donald" during his ridiculously self-indulgent Apprentice and Celebrity Apprentice days. So how did he do?
Just watch. Watch his posture and facial expressions. Watch those eyebrows!
Taran Killam: Played "The Donald" from October 2015 to present
Taran, while not new to the SNL cast, is new to this role. In fact, Killam has only appeared as Trump one time thus far, but don't let that fool you: this kiddo is a fierce contender. From the creepy, political grin he flashes to the gruffness in his voice and the way he lets his mouth hang open after ending a sentence, this character is bound to get better and better in the coming months. (You hear that Trump; I want you to stay in this race as long as possible just so Killam can continue impersonating you.)
So what is more important: tone or mannerisms? One performance, four performances, or nearly a dozen? Whelp, it wasn't easy but after spending a few hours watching countless clips from these three amazing comedians, I think I have a winner.
And the winner is...
Taran Killam!
I'll be honest, this one was a tough decision, but when you compare Taran's first Trump performance to Hartman's or Hammond's, his really does bring about some bigger LOLs.
Kudos, Killam. I can't wait to see what you with all of The Donald's "Trumpisms" throughout the rest of the campaign.