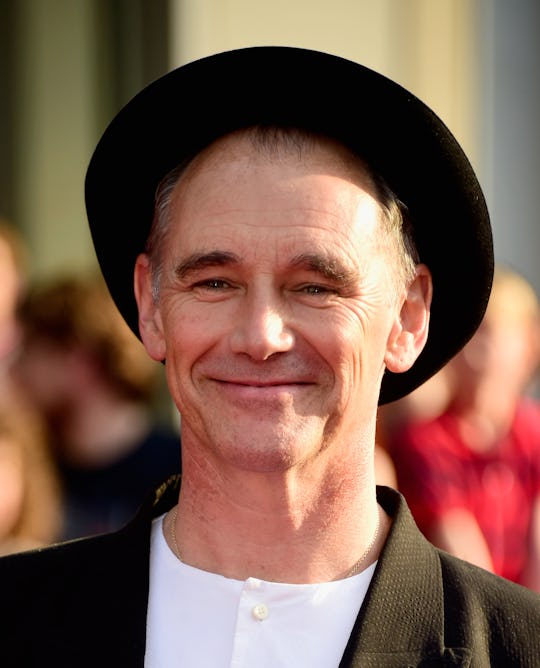 Frazer Harrison/Getty Images Entertainment/Getty Images
Who Played The Big Friendly Giant in 'The BFG?' He & Spielberg Are Close
There is no better giant than a big friendly one, and Mark Rylance, who plays the big, friendly giant in The BFG is a spectacular one. For the upcoming Roald Dahl movie adaptation, director Steven Spielberg tapped Rylance to play the giant and according to early reviews, he's one of the reasons to shell out the money for movie tickets and oversized buckets of snacks this weekend. The film was written by E.T. screenwriter Melissa Mathison, who died in 2015. She and Spielberg, according to The Chicago Tribune, had waited until the "digital cinematic technology" caught up with the demands of the story before giving it the big screen life it deserved.
So it's a personal project as well as a blockbuster. And if you're worried about the technology getting in the way of a good performance, fear not. The Tribune's film critic likens Rylance's performance as the giant to that of what Andy Serkis achieved as Gollum in Lord of the Rings. Those are some huge shoes to fill.
Rylance won an Oscar for best supporting actor for his role in Bridge of Spies, which led Spielberg to cast him as the giant in the Dahl adaptation. It sounds "crazy," the director told USA Today, "But when I saw what Mark had done with that [character], I thought, 'My, God, think of what he could do with the BFG.'"
Oscar winner Rylance comes from a long theatre background, too. The 56-year-old Shakespearean actor told The Wall Street Journal that his past work had everything to do with being able to channel the BFG for a CGI film. "Once I got over the unfamiliarity of all the technical apparatus that you have to wear, the actual playing was more similar to the final days of a rehearsal period," he said. "Normally in film, you have to hit your marks and there's a camera, and there's a lot of lighting that you have to get into the right place for. But here there was none of that," Rylance added. He said that Spielberg was there the whole time, pushing him along, too.
After working together on Bridge of Spies and this film, it looks like Rylance and Spielberg are new BFFs. Rylance doesn't seem to want to define his bromance with the director just yet, though. He told The Wall Street Journal in the same interview, "We just have a nice time together. We both like talking about different things, all kinds of things," he said. It almost sounds like they're the new Taylor Swift and Tom Hiddleston of Hollywood.
Whether they are friends in real life or not, whatever happened on set seemed to work. Who doesn't love the BFG?