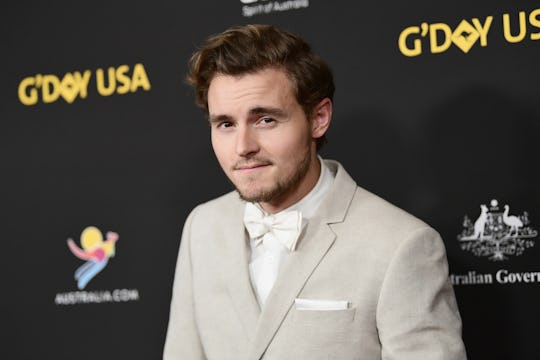 Emma McIntyre/Getty Images Entertainment/Getty Images
Callan McAuliffe Became A Regular On 'The Walking Dead' Season 9
Figuring out how to live with the Saviors in the wake of the war against Negan is one of many problems impacting The Walking Dead Season 9. Not all of the Saviors want to play nice, but Alden has been trying to get onto Maggie's good side ever since he first took up residence in Hilltop in Season 8. He's now a series regular, which means Alden might become more important going forward. But who plays Alden on The Walking Dead?
Callan McAuliffe plays Alden, who was a Savior prisoner at Hilltop who soon found himself becoming enamored of his new locale. He eventually switched loyalties, abandoning the Saviors to stick with his new crew. McAuliffe is a regular now, according to The Hollywood Reporter, so viewers may be seeing a lot more of him as Season 9 unfolds. It's even been speculated that he could become a new love interest for Maggie now that they work together so closely in their community.
McAuliffe is from Sydney originally, so he's yet another actor disguising his natural accent for The Walking Dead. He was earning praise for his performances when he was as young as 14, with agent Nicholas Bogner telling The Sydney Morning Herald in 2009 that McAuliffe had "a unique quality about his acting that just came across as extremely natural and extremely confident, but not in a cocky way."
McAuliffe is 23 years old now, and he's been acting since he was only nine. His first role was in 2004 in a short called D.C.; he followed that up with a few episodes of Comedy Inc., Resistance, Blue Water High, and Packed to the Rafters. He landed his first major Hollywood part in Rob Reiner's 2010 movie Flipped, which resulted from his first American audition. At the time, he told The Sydney Morning Herald that he'd taken a trip to the States and been recommended to a manager there. "He ended up putting me up for my first American audition," McAuliffe said. "I ended up getting it, which was really surprising, I didn't expect it."
After that, he appeared in I Am Number Four and The Great Gatsby, playing the teenage version of the title character. He's worked steadily in film and TV over the last few years, making a single episode appearance on Homeland and co-starring in the film The Stanford Prison Experiment. He had a more regular role on the TV series Blow Your Own Trumpet before taking on Alden on The Walking Dead.
In addition to playing Alden, McAuliffe has a movie called Summer Night coming out sometime in 2018. But The Walking Dead seems to be his main gig, and he told Digital Spy a little bit more about who Alden is as a character. McAuliffe said Alden was "far better-suited to those with the sensibilities of everyone at Hilltop." Later, he added:
It's only a natural progression that he ends up with people of that ilk, and I think you'll see more of that from him — he's a kind-hearted guy making his way through the apocalypse.
Despite not having the best start on the series (Saviors weren't exactly trustworthy, after all), it looks like Alden is going to be here for the long haul. Fans of McAuliffe will have a lot to look forward to.