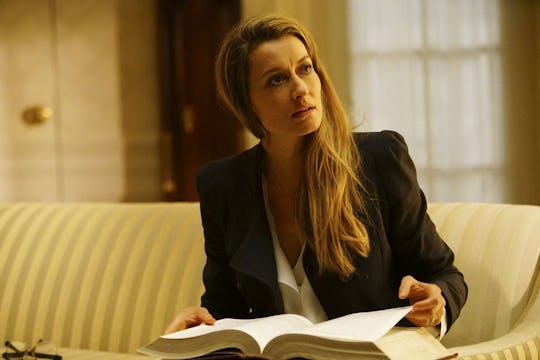 Ian Watson/ABC
Who Plays Alex Kirkman On 'Designated Survivor'? Natascha McElhone Is Back On Primetime
ABC's newest political thriller Designated Survivor premiered on Wednesday, September 21st, and while the show heavily promoted the return of its star, Kiefer Sutherland, to primetime, it also brought another familiar face back to TV. Sutherland plays Tom Kirkman, the erstwhile Secretary of Housing and Urban Development, who is named the "designated survivor" during a State of the Union address that ends in an attack on the Capitol. With all other members in the presidential line of succession killed, Kirkman ascends to the presidency, and wife, Alex, becomes first lady. So who plays Alex Kirkman on Designated Survivor? You probably recognize her from Californication.
Natascha McElhone spent seven seasons playing David Duchovny's on-again-on-again love interest on the racy Showtime comedy, set in the Venice neighborhood of Los Angeles. But McElhone is actually a British actress who was classically trained at the London Academy of Music and Dramatic Art. She revealed in an interview after shooting the final season of Californication:
"Playing the quintessential Venice gal was just funny because it's so not who I am...People thinking I was American and I lived in Venice and that was who I was, that was kind of a trip."
We don't know much about Alex yet, but she shares at least a few similarities with Californication's Karen.
They're both moms and career women, and they both seem to be women drawn with a lot of complexity. In the Designated Survivor pilot, the Kirkmans seem to have a strong relationship, but they falter as a couple when Tom gets "relocated" from his position as Housing and Urban Development Secretary to a Canadian ambassadorship. Alex, an attorney at the EEOC, loves her new job and their two children have finally gotten acclimated to living in Washington, until Tom's new appointment threatens to uproot them. All of that is upended, of course, when the attack on the Capitol renders Tom the new president of the United States and Alex the first lady.
Natascha McElhone's personal life is also mired in unexpected tragedy. In 2008, one day after her 10th wedding anniversary and three months pregnant, she got a call while shooting Californication that her husband, 43-year-old plastic surgeon Martin Kelly, had died of a heart attack in their West London home. The unexpected death shook McElhone, who at one point was in danger of losing her house, but she began documenting her grief in letters she'd continue to write to her husband, chronicling how she, a pregnant widow, and her children were coping. Eventually, she compiled the letters for a book called After You: Letters of Love, and Loss, to a Husband and Father.
The fact that she was able to continue shooting a series for six more seasons after that moment in her life without missing a beat speaks volumes of both McElhone's professionalism and her acting chops. You can catch her gracing screens again on Designated Survivor Wednesday nights on ABC.