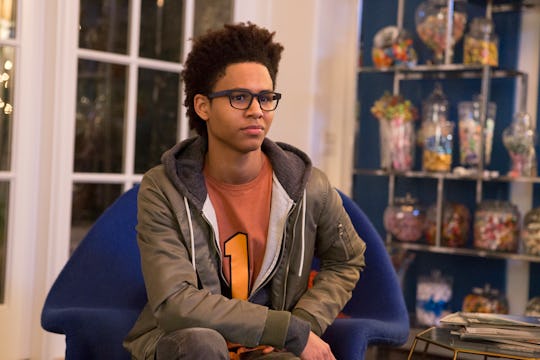 Paul Sarkis/Hulu
Alex Wilder From 'Runaways' Has Experience In Teen Dramas
For those people — like me — who can't get enough television, the landscape in 2017 couldn't be better. Not only are there platforms like Netflix and Hulu full of binge-worthy shows from traditional networks, but they themselves create content and release it year-round. There's no longer waiting for fall or summer TV to premiere to get your fix. The latest? Marvel's Runaways on Hulu, based on the comic book series. But who plays Alex Wilder on Runaways? Rhenzy Feliz may be a familiar face to some viewers.
Not only does Feliz have other credits, but he has a credit on another Hulu show. Rhenzy Feliz had a recurring role on Casual where he played Spencer, Laura's classmate and kinda-sorta boyfriend. Spencer suffered terminal cancer, and according to Indiewire, Feliz gave "one helluva performance." A twist with his character occurred at the end of Season 2:, Spencer found out that his treatment was actually working, and his relationship with Laura wouldn't be as temporary as they originally planned. Laura thought she was in love with Spencer, but once they discovered that he wasn't dying, she wasn't anymore. While Feliz was only in the second season, he was a pretty big fixture in Laura's storyline.
Besides Casual, Feliz also had a recurring role on Teen Wolf. Now, I stopped watching Teen Wolf a few years ago (I know, my bad), so I had to look up who Feliz played: his name was Aaron. Aaron appeared in Season 6b of Teen Wolf, and was a freshman on the lacrosse team at Beacon Hill. The Anuk-Ite, a deadly two-faced creature, entered Aaron's body through mutant spiders in his lacrosse mask (I know, terrifying). Using Aaron's body, the entity tried to find its other half by terrorizing Beacon Hill students. The real Aaron didn't survive getting inhabited, but "Aaron" the host morphed into the Anuk-Ite later in the season. If there's one thing I remember about Teen Wolf it's that it gets pretty wild at some points, so I'm sure Feliz had to show off his acting chops.
According to Hulu's press release, Feliz was one of the Music Center Spotlight Awards Grand Prize Finalists in Acting last year and performed at the Walt Disney Concert Hall. But who is Rhenzy Feliz's latest character, Alex Wilder? He's based on the comic book character, which Marvel describes Alex as a "loud-and-proud nerd." He's a loner, but wants to reunite with his childhood friends. He becomes the de facto leader of the Runaways, and is the one the group turns to when they need to think of a new plan.
I won't get into spoilers, but from the early synopses of the first few episodes, Marvel's Runaways gets pretty heavy. A tragic loss affects a group of Los Angeles teens, including Alex, and they reunite once they discover their parents may be hiding something from them (you know, like the fact that they're actually evil, NBD).
I'm already all-in for this show: it sounds like a teen drama and, because this is Marvel, there are going to be superpowers involved. Feliz will probably flex the acting muscles he used in Teen Wolf, which I'm excited to see. At just 20 years old, Feliz already has an impressive resumé. Knowing Hulu and Marvel, these two franchises joining forces will probably result in a high quality show. While I haven't seen all of Feliz's filmography, I'm eager to see what he brings to Marvel's Runaways table in the weeks to come.
Check out Romper's new video series, Romper's Doula Diaries:
Watch full episodes of Romper's Doula Diaries on Facebook Watch.