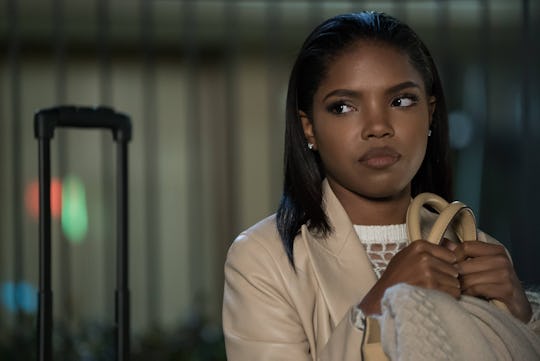 Annette Brown/FOX
Who Plays Alexandra Crane On 'Star'? Ryan Destiny Is Kind Of A Newcomer
FOX's new musical drama by Empire co-creator Lee Daniels, Star, premieres on Dec. 14 and will introduce to the world a new fictional girl group that is sure to churn out the kinds of original songs fans of Empire have come to expect and look forward to. In the new series, the girl group consists of two former foster care sisters, Star and Simone Davis, as well as Alexandra Crane, the daughter of a famed egotistical singer (played by Lenny Kravitz). So, who plays Alexandra Crane on Star? Ryan Destiny isn't totally new to the acting world, but it's only in recent years that she's been honing her craft, so it's going to be interesting to see her open up on a show where you kind of have to put yourself out there.
Star follows the formation and rise of a girl group and the dynamic they form as they go through making a name for themselves. However, the girls may soon learn that the price of fame can come at a high cost. All of Destiny's former roles have been more about the dramatic aspect of TV and movies instead of involving any music or dance numbers, so while training and rehearsing with her fellow cast mates has made her plenty ready for the role of Alexandra Crane, it's still a whole new world for the actress.
Before Star, Destiny was in the short-lived AMC series Low Winter Sun and then starred in the film A Girl Like Grace, alongside Raven-Symoné, Meagan Good, and Garcelle Beauvais. While her previous acting experiences have prepared her for the drama that the new FOX series will most definitely touch upon, only Daniels could prepare her for the musical side of things, while giving a strong lesson beneath it all. And according to CNN.com, Destiny knows that as well as anybody:
"Lee is a person who likes to touch on topics that make people feel uncomfortable, but it needs to be said and people need to learn from it."
Although right now, there are no songs or videos out of the young actress performing, according to TheIdleMan.com, Destiny has been singing and dancing since she was a kid, as her father was a singer too. And now that she'll be co-starring on Star, fans can likely expect to see those skills be put to good use. If you look at what Empire did for Jussie Smollett (Jamal), who released several singles throughout 2015 and 2016, and then Bryshere Gray (Hakeem), who was nominated for the NAACP Outstanding New Artist Award in 2016, being on a musically inclined show can definitely help to launch your music career.
And considering she'll be working alongside the likes of Lenny Kravitz and actress/rapper Queen Latifah, she'll be in great company to become the next breakout star.