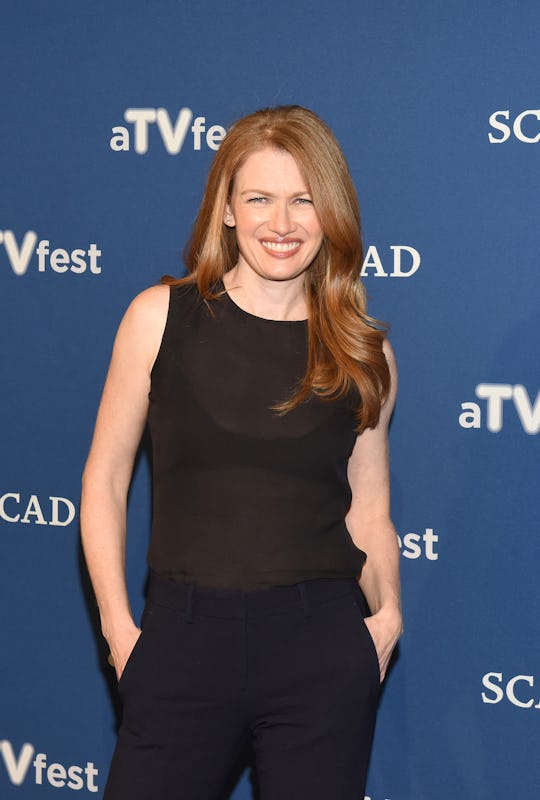 Vivien Killilea/Getty Images Entertainment/Getty Images
Who Plays Alice Vaughan On 'The Catch'? Mireille Enos Is New To Shondaland
First, there was Meredith Grey with her dark and twisty heart on Grey's Anatomy. Then, Shonda gave us Olivia Pope, the red wine-drinking, powerful D.C. fixer on Scandal. After that came Annalise Keating, the best defense attorney you could ever ask for, on How to Get Away with Murder. Now Shonda has blessed us again with a new leading lady, Alice Vaughan on The Catch, a kick-ass private investigator who gets betrayed by the man she loves. In the new TGIT show, Alice fights for the money, and dignity, that was stolen from her when her fiancé turns out to be a long haul con man. With the help of her team and her incredible P.I. skills, Alice proves that no one can take advantage of her. But who is the actress portraying Alice Vaughan on The Catch?
Behind the new queen of Shondaland is actress Mireille Enos. Enos is no stranger to the screen, as she has starred in many successful series over the course of her career. If you're wondering if Enos has what it takes to fill the shoes of some of Shondaland's most successful leading ladies, worry not. Based on her incredible resume, you'll see why she's taking on the new Shonda-created role.
Who's Afraid of Virginia Woolf?
If you don't keep up with Broadway you might've never heard of this play or know that Enos had a featured role. Playing Honey, the wife to Nick, a biology professor, Enos garnered a Tony Award nomination for Best Featured Actress in a Play.
Big Love
Enos got her first big television role on the HBO hit Big Love, where she did double duty, playing twins JoDean and Kathy Marquart. Enos did such a great job playing the twins you had to occasionally ask yourself if they were really played by the same person. It was like discovering there was really on one Lindsay Lohan in The Parent Trap all over again. Crazy!
The Killing
The Catch isn't the first time Enos will play a detective. On the popular AMC drama, Enos played detective Sarah Linden who worked for the Seattle Police Department. Enos received a lot of critical acclaim for the role and received nominations for an Emmy and a Golden Globe. With her new TV role, Enos will definitely be hitting the award show circuit again.
World War Z
In her new role as private eye, Enos will probably have to do a lot of running chasing down criminals. That won't be a problem for Enos, though. Having had to run alongside Brad Pitt as they escaped from zombies in World War Z, I'm sure Enos can handle chasing after some bad guys.
If I Stay
Enos can play any role that's handed to her. Whether she's a quick thinking P.I. or a music loving mom, Enos can fill the role perfectly. In If I Stay Enos filled the role of Chloë Grace Moretz's loving mother who gets into a terrible car accident. The whole cast is amazing, but Enos perfectly filled her role, making viewers laugh and cry.
Obviously, Mireille Enos is more than qualified to join Shondaland but seriously, did you ever doubt Rhimes' judgement, anyway? Of course Enos is going to kill it on The Catch, giving us all another show to be obsessed with. Happy TGIT-ing!