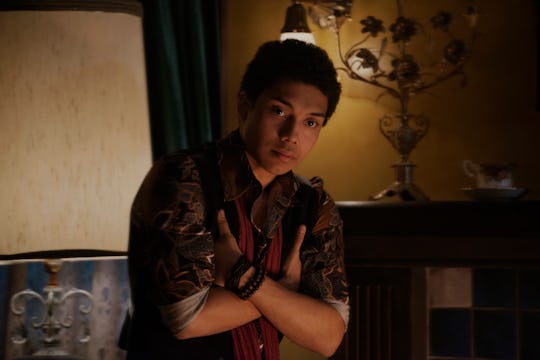 Diyah Pera/Netflix
This 'The Chilling Adventures Of Sabrina' Actor Is Making His American TV Debut
The Chilling Adventures of Sabrina is almost here, and it's telling a darker tale than the Sabrina the Teenage Witch you may remember. The series features a character from the comic books you may not have heard of — Ambrose Spellman, Sabrina's warlock cousin. He lives with Sabrina and her aunts, Zelda and Hilda, and will become her supernatural ally. So who plays Ambrose on The Chilling Adventures of Sabrina?
Chance Perdomo will play Ambrose Spellman, and if he doesn't look familiar, it's because this is one of his first major roles on American TV. According to Variety, the series is the English actor's first American screen credit, as his previous roles were mainly for British television and film. On the series, Perdomo will play Sabrina's cousin from England, who has been locked under house arrest in the Spellman home for 75 years by the Witches Council.
In a cast interview with E! News, Perdomo described Ambrose as a puckish and mischievous warlock who is kind and endearing at his core. "Think Jimi Hendrix, David Bowie, and Loki, and think, if they had some sort of a three-way magical baby, that is Ambrose Spellman," he told the outlet. Perdomo also explained that while Ambrose may look young, he's actually quite old, and his experiences as a warlock help Sabrina figure out her newfound witch abilities. "If Sabrina was a superhero, he'd be her guy in the chair. [She's] always coming to him for advice because he's got a wealth of knowledge and a wealth of magical know-how, and she's one of the main things that tethers him to the real world."
But if you were a fan of the Sabrina The Teenage Witch comic books, or the Melissa Joan Hart series of the '90s, you should expect to see a completely different take on the character and her supernatural world. In 2014, the show's creator Roberto Aguirre-Sacasa (also the creator of CW's Riverdale) wrote The Chilling Adventures of Sabrina comic book and the new series will be loosely based on his version. In an interview with Entertainment Weekly, Aguirre-Sacasa explained that the series would follow Sabrina's struggle with balancing her human life with her supernatural one, but her world is much darker than previous incarnations.
"The idea was to do a dark horror version of Sabrina, something that was more of a slow-burn horror, like The Exorcist and Rosemary's Baby and all those great satanic horror movies from the 1960s and 1970s," he said. "Sabrina has to stand up to the devil and these very formidable opponents — [and this season is] following her dark education. It's all part of a bigger arc, which is her trying to hold on to her humanity as her witch nature is developed." In the same interview, actress Kiernan Shipka — who plays Sabrina on the series — told Entertainment Weekly that her character is a "young, really badass, outspoken girl" who is trying to figure out who she is, while she hones in on her newfound powers and struggles between her "two completely separate worlds."
Hopefully, with her aunts — Zelda (Miranda Otto) and Hilda (Lucy Davis) — and her cousin Ambrose by her side, Sabrina might find the balance she needs to live her human life as a witch or vice versa. As a fan of the comics and the original '90's series, I'm just excited to see my favorite teenage witch back on TV. With all the new characters and horror coming to Greendale, diving into this dark new world of Sabrina is going to be a thrill.
The Chilling Adventures of Sabrina premieres on Friday, Oct. 26 on Netflix.