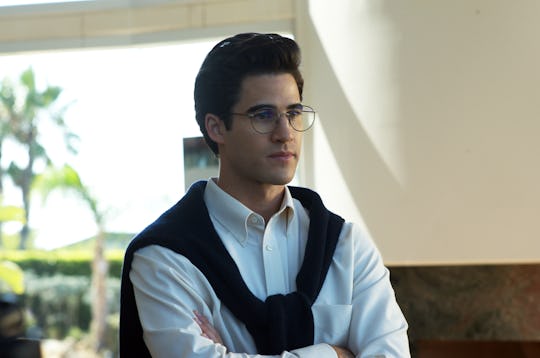 Suzanne Tenner/FX
Everything You Need To Know About The Actress Playing Andrew Cunanan's Mother On 'Versace'
In "Descent," viewers of The Assassination of Gianni Versace were introduced to Andrew Cunanan's mother Mary Ann for the first time. She immediately made it clear how some of his personality quirks had developed by displaying them herself. But who was the actress who brought the character to life so effectively? Who plays Andrew Cunanan's mother on Versace? She may look very familiar.
Actress Joanna Adler has worked on stage and screen, snagging parts in movies and television since the early '90s. In the last few years, she has appeared in countless TV shows. Though she's popped up in an episode or two of 30 Rock, The Good Wife, and Law & Order (among others), she'd had longer arcs on several shows as well. You might recognize her from Devious Maids, where she played conniving new maid Opal, or as Chaplain Royce on Orange Is the New Black. She was recently on the The Sinner as well, playing Detective Farmer. In just 2017 alone, Adler was in Divorce, The Blacklist, and The Tick; in the coming year, she has roles in two movies: Alex Strangelove and Can You Ever Forgive Me?.
Though her role in The Blacklist was relatively small (it was only a single episode), Adler received praise for her work on the series. She played the younger version of an existing character portrayed by Susan Blommaert, and even Blommaert felt that Adler did a great job staying true to the character, Kate Kaplan.
Blommaert told The Huffington Post that she felt some trepidation at the thought of someone else taking on her character. She even described the feeling of sitting at home and watching the episode as "terrifying." However, she soon learned she didn't have to worry about Adler's performance. "After the first two scenes, I knew it would be fine," Blommaert said. The fact that the two women are friends may have helped Adler tap into the character as well, capturing some of what Blommaert had helped create in the first place.
Liebman Entertainment provided a brief biography of Adler on her IMDB page. After graduating from Williams College in Massachusetts, Adler moved to New York to attend NYU's Tisch School of the Arts. She then went on to earn a Masters Degree in Performance Studies from the university. She made her theater debut in Terrence McNally's Deuce opposite Angela Lansbury and Marion Seldes, but that was just the beginning. Adler continued to work both on Broadway and off, earning an Obie Award and a New Dramatists' Boden Award, before branching out into other mediums.
Considering Adler's lengthy career, there's a very good chance that you've already seen her in more than one past project. If your introduction to her was The Assassination of Gianni Versace, then you may find yourself interested in exploring more of her past work, and there are plenty of options if you're looking for something to watch. Adler's role as Cunanan's mother was only the most recent in terms of television work, and her future gigs are already lined up.
If you enjoyed her as Mary Ann, you might also enjoy Adler in the upcoming Netflix teen comedy Alex Strangelove, or the Melissa McCarthy-starring biopic Can You Ever Forgive Me? about writer and forger Lee Israel. It's not clear yet how big Adler's roles in each movie will be, but if Versace is anything to go by, then she can make a big impact even with a small part.
Adler has been in so many different shows (not to mention her prolific work on stage) that even if you haven't seen her before, you're sure to see her again in the future.
Check out Romper's new video series, Romper's Doula Diaries:
Watch full episodes of Romper's Doula Diaries on Facebook Watch.