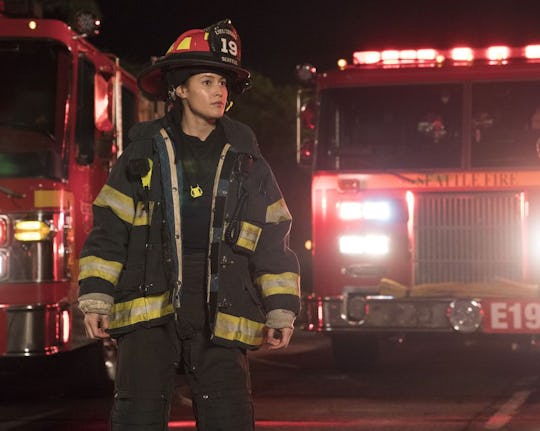 Mitch Haaseth/ABC
Get Ready To Meet The Star Of 'Grey's Anatomy's Latest Spin-Off
Grey's Anatomy finally returns this week after taking a long hiatus for the Winter Olympics. However, this isn't just a regular episode of Grey's; it also doubles as the back door pilot for the new spin-off series, Station 19. This means there will be a new character arriving at Grey's Sloan Memorial Hospital. So who plays Andy Herrera on Grey's Anatomy? Jaina Lee Ortiz is Shonda Rhimes' next big female lead.
Before she began acting, Ortiz had a very interesting past. She was raised in Bronx, New York and became a professional salsa dancer at the age of 16. She then dropped out of Lehman College to perform salsa around the world. It was while she was dancing at a club that she was picked for a small role in a New York University student film and discovered her passion for acting.
That being said, Rome wasn't built in a day, and Ortiz decided she needed training before she could really get into acting professionally. She then made the decision to train at the Maggie Flanigan Studio for two years, and supported herself as a MAC makeup artist. Following her graduation, she came in second place on Scream Queens 2, the 2010 VH1 search for a horror actress, by licking the glass divider at a mental hospital. Despite clearly being willing to go all the way for a role, it wasn't until four years later when she got her first big acting role.
She was cast as a series regular in the 2014 Amazon pilot, The After, which was picked up to series, but unfortunately, never actually ended up being produced. However, Ortiz quickly landed back on her feet and was then cast as the female lead opposite Morris Chestnut in the 2015 FOX drama Rosewood. The show went on for two seasons before it was canceled.
Ortiz bounced back again though, and scored a major recurring role on the second season of the popular USA drama series Shooter, starring opposite Ryan Phillippe. It was while these episodes were airing that it was announced that Ortiz was cast in the Grey's spin-off, which at the time hadn't been yet named.
Outside of her TV work, Ortiz also starred in the independent feature films Misfire and Laid Out, and prior to her TV roles, she starred in the web series, The Shop. She also recently appeared in Girls Trip as herself.
Ortiz being cast as the lead of Station 19 is a big deal because it appears she's the first Latina to spearhead a Shondaland series (she's of Puerto Rican descent). Of course there have been Latina characters on Rhimes' series before (Callie Torres on Grey's; Laurel Castillo on How to Get Away with Murder) but this is the first time a Latina is taking on the starring role, which is exciting.
When Ortiz isn't busy killing it on our TV screens, she can be found at home with her husband, Brad Marques, a writer for Marvel's The Gifted. They also have the cutest little dog, Zorro, together. The couple appear to love hanging out at home with their dog, but they also make it out to see movies like Black Panther together. Besides that, Ortiz also still finds time to dance, especially when one of her best friends and renowned choreographers, Stephanie Stevenson, is in town.
Obviously, Ortiz is multitalented and I personally can't wait to see her on Grey's and Station 19. Grey's returns Thursday, March 1 at 8 p.m. EST and Station 19 premieres on Thursday, March 22 at 9 p.m. EST on ABC.
Check out Romper's new video series, Romper's Doula Diaries:
Watch full episodes of Romper's Doula Diaries on Facebook Watch.