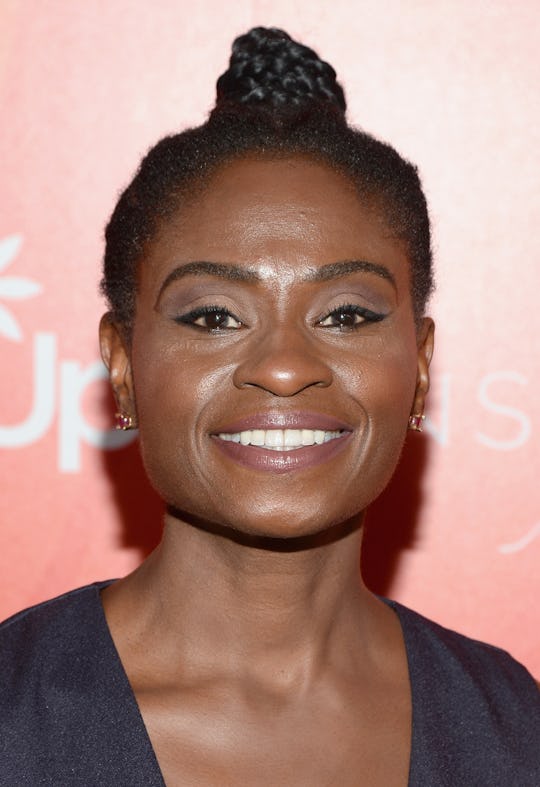 Matt Winkelmeyer/Getty Images Entertainment/Getty Images
Who Plays Angela Bassett's Counterpart On 'American Horror Story'? Adina Porter Is An Alum
American Horror Story: Roanoke is telling a few different stories at once. The bulk of the main storyline is actually a flashback, depicted on a faux docu-series called My Roanoke Nightmare. Each character is depicted both by the "real" person and by an actor on the fake show. The story follows married couple Shelby (Lily Rabe and Sarah Paulson) and Matt (André Holland and Cuba Gooding, Jr.) as well as Matt's sister Lee, who is played by Angela Bassett in the reenacted segments. But who plays Angela Bassett's counterpart on AHS?
Adina Porter plays the "real" Lee, the one who narrates the action and appears in the interview segments of My Roanoke Nightmare. Lee is a character who is having a tough time on top of all the killer ghosts and bizarre apparitions: she's a recovering addict and alcoholic who lost her job and her marriage, and might lose her daughter as well. Porter doesn't get a chance to act out that part of the story herself (that's left to Bassett) but she makes the most out of her relatively static screen time. It's clear when you watch her that even though Lee has distance from the events of the story, she's still affected by them.
Porter is actually an AHS alum even though her previous part on the show was very small. She appeared first in Season 1, AHS: Murder House, as a patient of Dr. Harmon; it's one of the many small connections between Season 1 and Season 6. Porter has had a lot of work on television, so odds are you've seen her somewhere before, even if it was in a minor role. Her best known television roles were on True Blood, where she played Lettie Mae Thornton, and on The 100, where she played Indra. Just this year, Porter has appeared on Underground and The Catch in addition to AHS.
Promos for upcoming episodes of AHS: Roanoke show that Lee is having perhaps the most difficulty reliving her ordeal of any of the characters. Porter's Lee gets overwhelmed and asks for the cameras to be shut off when discussing what happened to her daughter, who vanished from the house at the end of Episode 2. The only sign of the little girl was her yellow hoodie, left high up on a bare tree. Lee has already struggled a lot so far, but it looks like it's far from over.