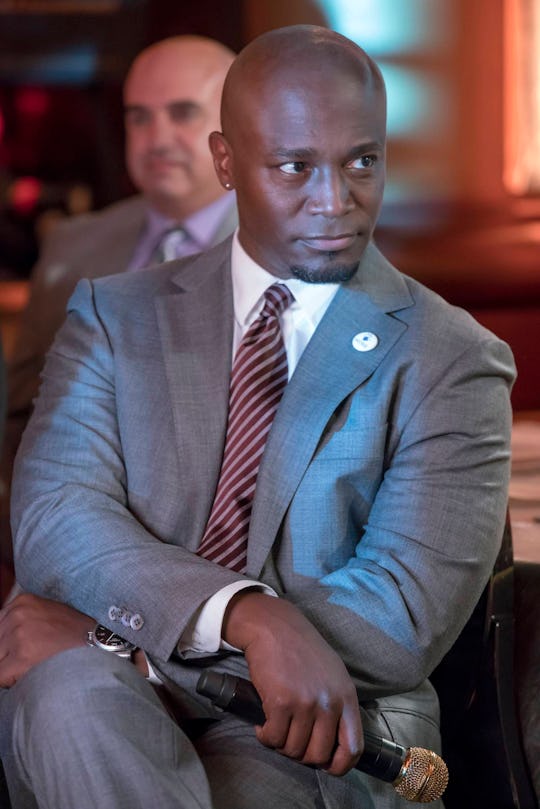 Chuck Hodes/Fox
Who Plays Angelo On 'Empire'? Taye Diggs Was Hand Picked By Cookie Lyon Herself
Last July, it was revealed that a new character would be joining the cast of Empire Season 3 in a major recurring role as Angelo Dubois, a wealthy, pedigreed Harvard lawyer who chose to go into civil service instead of a more lucrative career in litigation. Early reports drew parallels between the character, who serves as a humble city councilman, in spite of coming from an affluent family, and Barack Obama. And we finally caught a sneak peek of him in the promo for Season 3's second episode, "Sin That Amends." So who plays Angelo on Empire? Taye Diggs joins the star-studded guest cast.
It's clear from the promo that Angelo is brought in as a love interest for Cookie, but what the promo doesn't reveal is that Taraji P. Hensen actually hand-picked Diggs herself for the role in a power move that should surprise no one at this point.
"Well, you know, I did request him," she told E! News in an interview. "I've never worked with Taye before. It was like, why not?"
Although Cookie is obviously the intended target of Angelo's affections, there is one other profoundly single main character on Season 3 who may cause an upset.
Honestly, we should be considering this plot twist for all potential suitors who come up this season: Angelo could just as easily be a love interest for Jamal as he is for Cookie. In fact, it's shocking that there hasn't been a Cookie/Jamal/bisexual hunk love triangle yet, considering the series we're discussing, and the fact that the opposite parent-child love triangle has already occurred between Lucious, Hakeem, and Anika.
As the promo shows, Lucious starts feeling jealous of Angelo and Cookie's relationship pretty quickly, although Lucious didn't exactly do wonders for the wedge already between them by having a shotgun wedding with Anika. It seems to be one betrayal Cookie isn't letting go of. But she's also a little suspicious of Angelo, snapping at Jamal when he praises his politeness, "I don't trust polite people, stupid."
In spite of everyone around them (except Lucious, of course) pushing Angelo and Cookie together, she resists, inherently mistrustful of how squeaky clean and kind Angelo seems to be.
After one Angelo-aimed Cookie rant in particular, Jamal quips to Lucious, "Only other person I've seen her go off on like that is you," firing up his dad's jealousy and indignation. We'll just have to wait and see whether Angelo can really soften Cookie up.