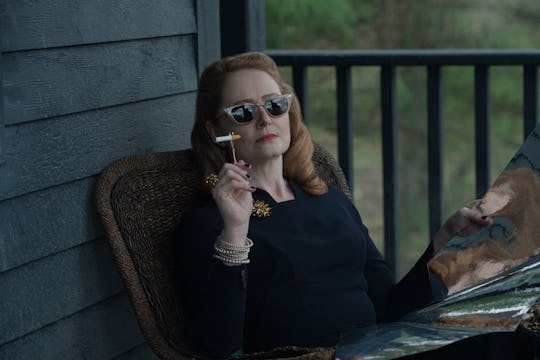 Diyah Pera/Netflix
Zelda On The New 'Sabrina' Is A lot Darker Than You Might Remember
On October 26, Sabrina Spellman's back in Netflix's forthcoming Chilling Adventures of Sabrina. And in this case, 16 has never looked so, well, chilling. The high school years are tough enough but Sabrina has the whole half-witch and Church of the Night situations to figure out as well. Lucky for S, two witchy aunts have her back. Though neither are the versions you might remember from the '90s show Sabrina The Teenage Witch. So who plays Aunt Zelda on Sabrina?
While the original '90s Zelda was played by Beth Broderick, the new series will star Australian actress, Miranda Otto. Otto's been acting for awhile, starting with smaller Australian films and eventually landing a small role in the 1998 movie, The Thin Red Line, and the 2000 thriller opposite Harrison Ford and Michelle Pfeiffer, What Lies Beneath. Once she landed on the more prominent sets with bigger names, Otto's career took off with few other frightening and fantastical roles.
You might recognize her as heroic shieldmaiden Éowyn from Peter Jackson's epic Lord of the Rings fantasy movies. Or maybe you're a Tom Cruise fan and remember her in the 2005 remake of War of the Worlds where she played Cruise's wife. Those roles aside, she got her spook on in the seriously creepy 2017 movie Annabelle: Creation (which I'll never see, thanks). Regardless, her skillset proves she'll be the perfect Zelda in Sabrina's new world.
Movies aside, it looks like Otto's all over TV — if you've been paying attention. Spots on shows like Cashmere Mafia, Homeland, and 24: Legacy are all on her resume so Sabrina is the perfect place to leave her mark once again. This time though, she'll do it on her own spellbinding terms. Otto recently spoke with Entertainment Weekly about what fans of the characters should expect with the newer, darker series. "At first impression I would say Zelda's quite a foreboding character," she said. "[Zelda's] quite controlling. She's a decision maker, and she's fiercely protective but also very pushy about what she thinks Sabrina should be doing and very domineering over her sister, Hilda."
So maybe Otto's Zelda isn't a complete remake of the character. Zelda from the '90s was the more strict and disciplined aunt of the two and it doesn't sound like that part will change. Maybe '90s Zelda — renowned in scientific circles — kept her dark side buried and the new version will bring those traits front and center. Zelda was, after all, the aunt who kept everyone in line, taught Sabrina how to control her powers, and maintained the level-headed clarity that Hilda often lacked.
"They're such different characters but they complement each other so well," Otto continued in the same EW interview on her character's relationship to Hilda. "I find it such a fascinating dynamic between the two sisters, this co-dependent relationship that they have." Lucy Davis, who plays Zelda's counterpart, Hilda, added that, "Hilda's definitely the more nurturing one."
This is all good to know if you're going in with memories of past manifestations of the character (including the Archie comics). Not only is this Zelda darker, but the new Sabrina series compares its overall tone on to The Exorcist and Rosemary's Baby. If you plan to watch the 10-episode series, just know that while there will be a lot of familiar elements, there's just as many variances. Sabrina will still fight evil forces while navigating life in her teens, and she'll still have these two rock-solid aunts to help guide her. And anyway, given her track record, if Zelda has anything to do with the way this all turns out, I think Sabrina's in good hands.