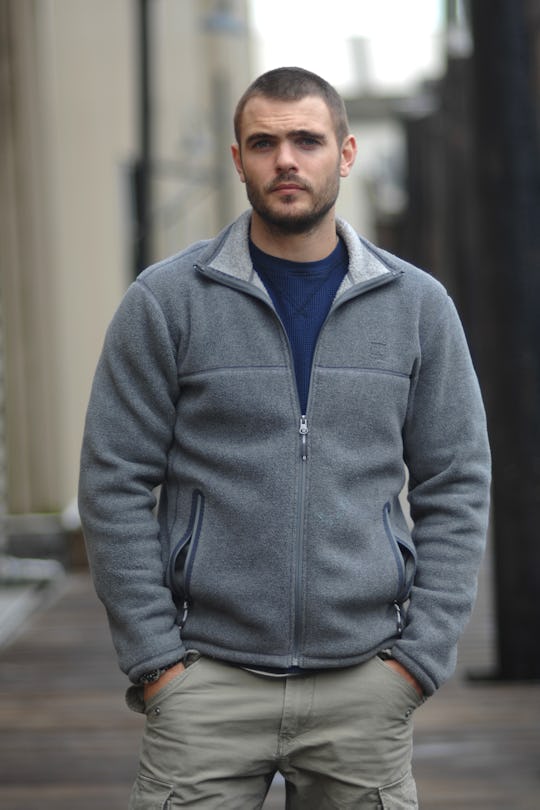 Sergei Bachlakov/Freeform
Everything You Need To Know About The Actor Playing Ben On 'Siren'
I'm a sucker for any show involving mystical creatures, but since vampires and zombies are a little played out at this point, mermaids are the logical next step, as in the new Freeform show Siren. But I am also a sucker for cute boys, which is why after watching the trailer for the show, I found myself wondering: who plays Ben on Siren? Alex Roe is the name of the actor, and it's just possible he looks a little familiar to you. He's been acting for a while now, but just recently started entering the spotlight.
Siren is a new show about a small town in what looks to be the Pacific Northwest, which is suddenly confronted with real-life mermaids. But these mermaids aren't the gentle, hair-combing, singing mermaids of Disney movies. These creatures are more like animals, and not only that, but they are predatory and even violent. Nevertheless, from the clips available, it looks like a love story is going to develop with the handsome Roe as the romantic lead, Ben. He is the character driving the truck that almost runs over the startled and creepy mermaid played by Eline Powell. However, this is hardly Roe's first time playing a romantic lead.
He was the star of the romantic movie, Forever My Girl, about a country music star who leaves his fiancée right before the wedding to pursue his music dreams. Then when a close childhood friend dies, he returns to his hometown to confront the mistakes he's made. It was Roe's first starring role, and that combined with his dreamy good looks was enough for Coveteur to dub him "the next Liam Hemsworth." In an interview with the outlet, Roe talked a little bit about mythical creatures. "So there's the idea of the potential of some sort of mythical creature existing down there [in the ocean], and just how much of the creature is based in myth, and how much of the myth that we, as humans, put around it," he explained.
An English-born actor, Roe has still managed to master the American accent, as seen in these big projects he's been a part of lately. You can get ready to hear it again (and see a lot more of Roe) on his new movie Hot Summer Nights alongside the internet's latest and greatest crush, Timothée Chalamet. The movie premiered at SXSW and is set to be released in theaters in July of 2018. Roe will play the town bad-boy who gets poor Chalamet into some pretty serious trouble one summer in Cape Cod. Definitely marking my calendar for that one.
Roe may be getting bigger roles these days, but he's hardly a newbie in the business. Some of Roe's other credits include movies like Rings and The Fifth Wave, according to his IMDB page. But if you were to look only at his Instagram, you might be forgiven for thinking that Roe is just your average dude. He posts vacation pictures, some childhood snapshots, screenshots of texts from his mom, oh and palling around with costars like Chalamet and Chloe Grace Moretz. You know, normal person stuff.
I obviously can't really say for sure, but I'm going to go ahead and bet that Roe is going to be in much higher demand in the years ahead, and you're probably going to see a lot more of him. Who knows, maybe he will become the next Liam Hemsworth. Or maybe the next Armie Hammer. Or maybe he'll become something entirely different. Something — dare I say it — mythical?
Check out Romper's new video series, Romper's Doula Diaries:
Watch full episodes of Romper's Doula Diaries on Facebook Watch.