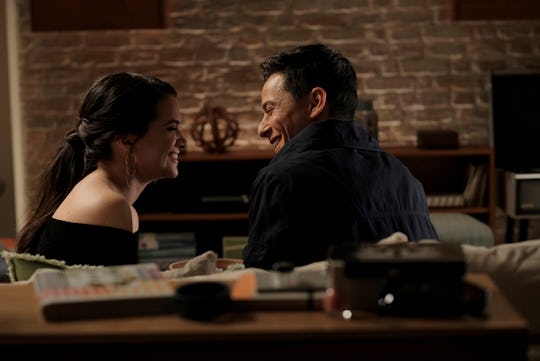 Phillippe Bosse/Freeform
Luca James Lee Makes His TV Debut On 'The Bold Type'
With her career concerns kept front and center, Jane hasn't had much time for romance during Season 2 of The Bold Type. However, that might have changed after the introduction of the charming Dr. Ben Chau. Ben and Jane have been hitting it off, so he could be sticking around for some time. If that's the case, then fans will want to get to know him — and the actor portraying him. But who plays Ben on The Bold Type?
That would be Luca James Lee making his television debut as the disco-dancing, list-making doctor who is side-shuffling his way into Jane's heart. His list of onscreen credits is surprisingly short; aside from The Bold Type, he's only been in the short film An Excerpt from South Solitary in 2010. According to IMDB, the short tells the story of an "unmarried woman [who] moves to a remote lighthouse with her uncle and a caretaker," and it's not clear where Lee falls in the cast list. Though the short was turned into the feature length film South Solitary, Lee didn't make an appearance in the movie.
Lee's social media presence is similarly minimal. He didn't join Twitter until February 2018 and has only posted two tweets: a brief "LOL" with emoji prayer hands in reaction to a fan's comment about Ben's good looks, plus a Lindsay Lohan quote about Britney Spears. What Lee lacks in quantity he certainly makes up for in quality.
That makes Lee almost as mysterious as Dr. Ben. Though Ben seems practically perfect in every way, his connection with Jane is still tenuous. He was introduced as one of several very accomplished men being photographed for a piece in Scarlet, and Jane liked him as soon as she saw his picture. Sutton noticed that the two might hit it off after she met Ben, who was very sweet but a little reserved — just like Jane. Jane spun their first meeting into an article of her own all about Ben, and a clip from the upcoming episode "OMG" revealed that they followed up with lunch.
But that wasn't all the thirty-second clip revealed. As reported by TV Guide, Jane announced that she really liked Ben and planned to see him again. He was unintentionally funny and easy to hang out with, but Jane hesitated before explaining what was holding her back. The sneak peek also cut off before Jane could spill her concerns, but there's a chance Ben might not be as wonderful as he seems.
Unfortunately, it doesn't look like Lee has announced any TV or film projects post-Bold Type. However, he does have quite a few Audible credits to his name. It seems he voiced an informative series for iMinds in 2009, recording short segments under ten minutes on everything from anime to the Bay of Pigs. If you like Lee's voice, then for a mere $0.69, you can have him educate you on the Loch Ness monster, penicillin, or parkour for just a few minutes out of your day.
The return of Jane's old flame Pinstripe may have her pumping the breaks with Ben, but hopefully the good doctor won't be out of the picture for good. The promotional material for Episode 4 makes it seem like Jane's personal life is about to get a little more complicated, which might be a nice distraction from the uncertainty of her career. But even if Ben doesn't win Jane over in the end, watching her decide between both guys is sure to be fun. And maybe this is just the start of more great things for Luca James Lee.