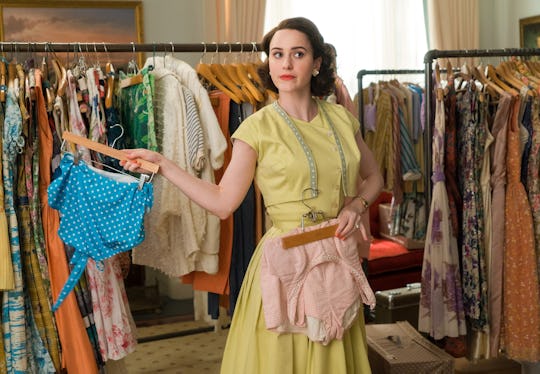 Amazon
Watch Out For New Love Interest Benjamin On 'Marvelous Mrs. Maisel' Season 2
When The Marvelous Mrs. Maisel Season 2 lands on Amazon Prime today, there's going to be a new man in Midge's life. Benjamin, a young doctor, will meet Midge in the Catskills, where both are spending their summers. A clip reveals that Rose is insistent that Midge gets to know Benjamin, but in what capacity, it's hard to say. So who plays Benjamin on The Marvelous Mrs. Maisel?
That would be Zachary Levi, an accomplished American actor. Chances are you recognize him, but you're not quite sure what from. Levi's career dates back to the early '00s, when he appeared in episodes of shows like Larry David's Curb Your Enthusiasm and cop drama The Division. His first regular role came in ABC's sitcom Less Than Perfect, which went off the air in 2006. Shortly thereafter, he landed his breakout role as the eponymous computer genius in NBC's spy-drama Chuck, which aired for five seasons.
Since Chuck went off the air, Levi has scored regular TV gigs on series such as Alias Grace and Heroes: Reborn. He's also done pretty well for himself on the big screen, and you might recognize his voice from the animated hit film Tangled, for which he voiced Flynn Rider. He has reprised the role numerous times since, including in the Disney channel series Tangled: The Series. Oh, and he's done the rounds on the comic movie scene: He took over the role of Fandral for Josh Dallas in Thor: The Dark World and Thor: Ragnarok, and is now set to star as a DC superhero in the upcoming flick Shazam!, where he's sure to bring some much-needed humor to the dark universe.
On Mrs. Maisel, you're likely to get a mixture of humor and drama, which he seems more than equipped to handle — I mean, looking at his resume, clearly this guy can do both. As with the rest of the cast, Levi has been doing the rounds with the press, and he can't seem to say enough good things about his experience working on the Emmy-winning series. However, he doesn't let on too much information about who exactly Benjamin is to Midge, merely saying that they "end up kind of colliding" when their mothers tell them about one another.
But when we last saw them in Season 1, weren't Midge and Joel back together? Mrs. Maisel was all ready to patch things up with her Mister, which is punctuated by her revealing her name on stage at the end of her stand-up set. Joel, however, seems to be on the fence about things, still hung up on the fact that his wife is better at his dream job than he is.
Midge's parents, Rose and Abe, were also very pro her getting back with her husband, because, well, it saves face in the community, eliminating some of that Mad Divorcee stigma that plagued the first season. However, things definitely aren't quite back to normal, seeing as the Mrs. Maisel Season 2 trailer released in August begins with her mother asking her if she's dating. If this and Levi's comments are any indication, it looks like Joel will have some competition for Midge's heart in the form of Benjamin.
This first-time mom wants to have a home birth, but is she ready? Watch how a doula supports a military mom who's determined to have a home birth in Episode One of Romper's Doula Diaries, Season Two, below. Visit Bustle Digital Group's YouTube page for the next three episodes, launching Mondays in December.