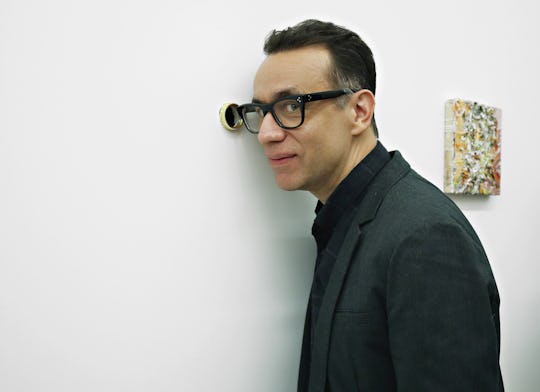 Cindy Ord/Getty Images Entertainment/Getty Images
Who Plays Bobby Durst On 'Unbreakable Kimmy Schmidt'? Fred Armisen Is A Master Of Disguise
The second season of Unbreakable Kimmy Schmidt introduces a surprising love interest for Carol Kane's landlady Lillian in the form of a very familiar man named Bobby Durst. Bobby seems like a very possible riff on Robert Durst, of HBO's The Jinx fame (Romper reached out to Netflix for comment, but did not hear back at the time of publication). It's a hilariously bizarre pseudo-cameo in a show that excels at of the moment characters, and Bobby is played by an actor who is an expert at both the hilarious and the bizarre. So who plays Bobby Durst on Unbreakable Kimmy Schmidt?
None other than Fred Armisen, of course. Armisen is a veteran of Saturday Night Live, where he worked with Kimmy Schmidt creator Tina Fey. He's currently appearing as the other half of a comedy duo with Carrie Brownstein on the sketch comedy series Portlandia. That's only the tip of the iceberg of Armisen's accomplishments, however, as he's also made numerous appearances on film and is known for popping up in just about every sitcom there is in some capacity (Broad City, Man Seeking Woman, New Girl, Brooklyn Nine-Nine — just to name a few). Armisen is a true character actor; with each character he turns out distinct and equally hilarious — and often unsettling — roles. It makes him a perfect person to take on a character like Bobby Durst, who is pretty much the definition of unsettling.
Armisen played the real Robert Durst in a skit on Saturday Night Live, which might just be where Fey got the idea to cast him as the character on Kimmy Schmidt. Armisen is able to easily replicate the notable qualities that confused and intrigued audiences who were watching Durst on The Jinx, such strange behavioral tics as constant mumbling and off eye contact. Armisen's Durst also takes advantage of the actor's musical talent, resulting in a low-key roller rink musical number that's as random as it is delightful.
I'm not sure if Robert Durst ever performed with a ukulele, but let's give The Unbreakable Kimmy Schmidt some creative license on that one – it was worth it for the joke.