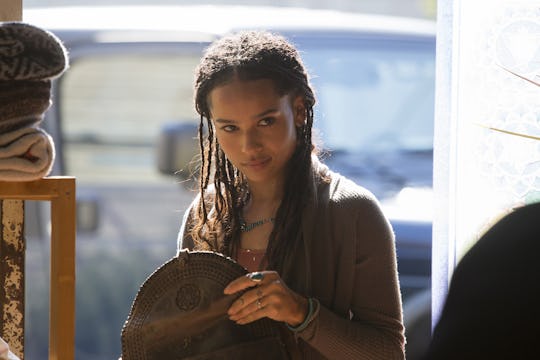 Hilary Bronwyn Gayle/HBO
Bonnie On 'Big Little Lies' Should Look Familiar
HBO's new limited series, Big Little Lies, based on best-selling novel of the same name by author Liane Moriarty, is about to debut and there's already been a lot of buzz surrounding the show. The new series follows the lives of three different mothers living in a beautiful beachside town in Monterey, California and the drama that unfolds when their first grade kids start attending the same school. One of the mothers, Madeline, has a lot on her plate now that her ex-husband, Nathan, and his new wife, Bonnie, have a daughter that's in the same class as Madeline's youngest child. So who plays Bonnie on Big Little Lies? Zoë Kravitz will portray the boho-chic second wife.
Besides being the daughter of musician Lenny Kravitz and The Cosby Show star Lisa Bonet, Kravitz has made a name for herself through her various acting roles. She's best known for starring in the Divergent films alongside Shailene Woodley, who is also starring in Big Little Lies as single mom Jane. The two played best friends Tris and Christina in the Divergent franchise and it'll be fun seeing them act alongside each other again in these very different roles.
Besides the Divergent films, Kravitz has also appeared in the films It's Kind of a Funny Story, X-Men: First Class, Dope, Mad Max: Fury Road, and Fantastic Beasts and Where to Find Them, according to her IMDB page. She also lends her voice to the new LEGO Batman Movie as Catwoman and will be reprising her role as Leta Lestrange in Fantastic Beasts and Where to Find Them 2, which is due out sometime next year.
Though her role as Bonnie Carlson on Big Little Lies is certainly her biggest role on the small screen to date, it won't be the first time people have seen Kravitz on TV. In the past, she's made notable appearances on shows such as Portlandia and Californication.
Big Little Lies is centered around the death of someone and somehow Madeline, Jane, and another mother, Celeste, are involved in whatever happened. (Both the killer and the victim will remain a mystery for a while.) It's unclear if or how Kravitz's character gets involved in this messy situation, but it'll be interesting to see how this story plays out. With a cast this great, the show will surely be amazing.