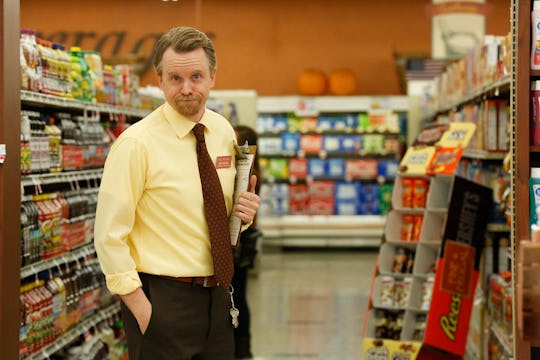 Vivian Zink/NBC
Boomer From 'Good Girls' Should Look Very Familiar & Here's Why
The good girls will go bad in NBC's new dramedy series, Good Girls. The series follows three women — Ruby, Beth, and Annie — as they all face various financial issues and decide to rob the grocery store where Annie works. Also working at that grocery store is Boomer, the store manager. So who plays Boomer on Good Girls? David Hornsby nabbed the role.
Hornsby has been appearing on TV screens for almost 20 years so you'll probably recognize him in Good Girls. In the early 2000s he had recurring roles on shows like Six Feet Under, The Joe Schmo Show, The Mullets, Center of the Universe, and Jake in Progress. He also starred in the Nickelodeon animated series Fanboy & Chum Chum, where he played the voice of Fanboy. Unfortunately, the show only lasted two seasons. He also loaned his voice to one of Nickelodeon's other animated series, Sanjay and Craig, for a few episodes.
More recently, Hornsby had a recurring part on It's Always Sunny in Philadelphia as Cricket. He's additionally been on Baskets, The Goldbergs, Ben 10, and Idiotsitter. You can also hear his voice on the new YouTube Red animated series Dallas & Robo, which will release sometime this year and stars John Cena and Kat Dennings.
Besides his work on screen, Hornsby has written for a number of TV series, including How to Be a Gentleman, Unsupervised, and It's Always Sunny in Philadelphia. Back in December, it was announced that he, along with Blake Anderson (Workaholics), were developing a comedy for CBS. Both Hornsby and Anderson would star in the series as well.
In addition to his work on the small screen, Hornsby has also appeared in a number of films, such as Pearl Harbor, Minority Report, Christmas with the Kranks, Aliens vs. Predator: Requiem, and Pretty Bird.
As for his personal life, Hornsby has been married to Bones star Emily Deschanel since 2010, which makes Zooey Deschanel his sister-in-law. The couple have two sons together, Henry and Calvin. He's also the cousin of Grammy-winning singer/songwriter Bruce Hornsby. Besides that, it's hard to know what Hornsby gets into in his personal life. He's on Twitter, but his account isn't verified and he doesn't tweet all that often. And even though his Twitter bio refers to him as an "Instagram model" he actually doesn't appear to have an Instagram, unless it's very well hidden.
However, that just seems to be how his family operates. Deschanel is pretty private as well when it comes to social media (though her Twitter is verified). So while it'd be great to get more of a look into their lives, the couple certainly has a right to their privacy and it should be respected.
But even though you can't get an inside look at Hornsby's home life, you can see him on Good Girls. There's not much known yet about his character, Boomer, but we'll certainly learn more in that first episode since it's his grocery store that the ladies will rob. And while Hornsby's character looks vastly different than his character on It's Always Sunny in Philadelphia, the actor will surely be just as funny to watch in this new role.
It's unclear just how long Hornsby will be on the series, since it doesn't appear he's a full-time cast member. Still, hopefully he'll stick around at least for a little while. It's always great to see him on our TV screens.
You can see Hornsby in Good Girls beginning Monday, Feb. 26 at 10 p.m. EST on NBC. Don't miss it!
Check out Romper's new video series, Romper's Doula Diaries:
Watch full episodes of Romper's Doula Diaries on Facebook Watch.