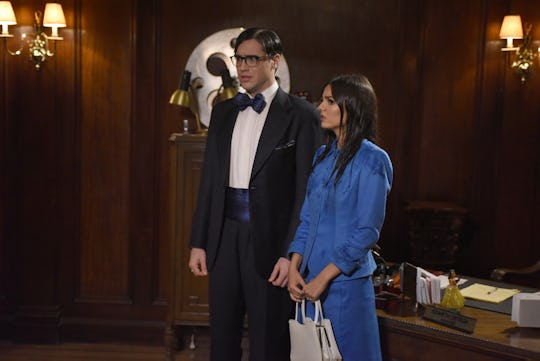 Steve Wilkie/FOX
Who Plays Brad On FOX's 'Rocky Horror'? Ryan McCartan Is Leaving His Disney Roots Behind
When I first heard about the new Rocky Horror Picture Show remake, I was a little concerned. The musical is timeless, obviously, but I couldn't imagine anyone living up to the iconic performances of the original cast. Luckily, the remake did cast a slew of extremely talented actors and singers. In particular, casting Brad and Janet — the initially-innocent main characters who go through some serious "corrupting" throughout the show — with a Disney star and a Nickelodeon star is definitely a fun sort of meta-commentary. We immediately recognized Victorious' Victoria Justice as Janet, but who plays Brad on Rocky Horror?
Ryan McCartan, a former Disney star, snagged the role of Brad Majors in Kenny Ortega's remake of the classic musical movie. In the musical, Brad and his brand-new fiancée Janet Weiss (Justice) get lost and stumble upon Dr. Frank-N-Furter's (Laverne Cox) mysterious castle, leading to a sexual awakening (of sorts) for both of them.
The choice to have the two "innocent" roles played by kids' show alums is definitely a smart one, playing up the well-touted fact that former Disney/Nickelodeon stars inevitably make the move from "kid" roles to more "adult" parts (usually to much fanfare and/or criticism from former fans). And what could possibly be more adult than Rocky Horror?
These are a few of McCartan's most notable roles and projects, pre-Rocky Horror.
Liv & Maddie
McCartan played the recurring role of Diggie, the love interest of Maddie (one-half of the titular starring twin set) on the Disney Channel series. He appeared in the role from 2013-2016, before leaving to take on his Rocky Horror role, though he's appeared intermittently since then. He's also set to appear in the show's series finale, airing next year.
The Girl And The Dreamcatcher
McCartan began dating his on-screen love interest's portrayer, Dove Cameron, in 2013, while both were appearing on Liv & Maddie and the pair became engaged this April. Both actor-singers, McCartan and Cameron formed the pop duet group in 2014 and released their debut EP back in July. It remains to be seen whether The Girl and the Dreamcatcher will continue on, given that the Disney lovebirds announced their (amicable) split earlier this month.
Heathers: The Musical
McCartan played the role of rebel-psychopath-love interest Jason Dean "JD" (the role originated by Christian Slater in the 1989 cult classic movie Heathers) in the Los Angeles and New York Off-Broadway productions of the musical adaptation from 2013 until 2014. As someone who saw the show on New York's New World Stages back in 2014, I can basically guarantee that McCartan's got the acting and singing chops to play Brad in Rocky Horror – not to mention the ability to slip into an iconic role and make it his own.