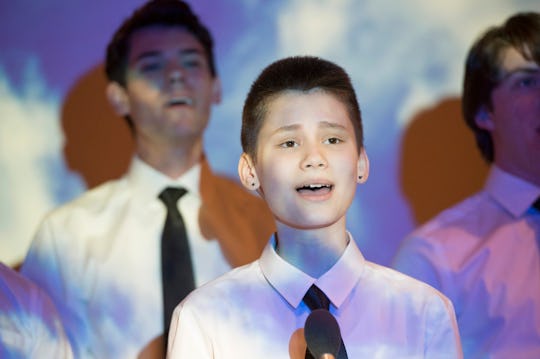 JoJo Whilden/Netflix
Who Plays Buck Vu In 'The OA'? Ian Alexander Is An Up And Coming Actor
There isn't much information available about Netflix's newest series The OA despite the fact that its premiere is imminent. Much of the promotional material focuses on the protagonist, Prairie Johnson, who has returned home following an inexplicable seven year absence. She's central to the show's mystery, but she's not the only character of interest in the production. Though the cast is full of more established performers, there are also a few young actors making their debut on the show, including the new actor playing high school student Buck Vu. But who is Buck Vu? And more importantly, who plays Buck Vu in The OA?
Ian Alexander is the fifteen year old taking on the role, and it's his very first part. The details are scant when it comes to Buck as a character, but thankfully Alexander provided some facts on his Tumblr when encouraging people to watch in a post titled "reasons to watch The OA, a netflix original series," made two months before the premiere. Alexander's list of cited reasons to tune in included that Buck is an Asian-American trans boy who is "not reduced to his trans-ness" and is also a "well rounded, lovable character." Though Alexander is new to acting, playing Buck won't be the first time he's in the spotlight.
Alexander has already made a name for himself on the internet thanks to his response to an anti-trans viral photo. The anti-trans picture featured college students holding signs with offensive statements like "Transgenderism is a mental disorder!" Alexander's photographic response was just too perfect. He posted a picture of himself smiling and holding up a sign of his own that said, simply, "Shut the f*ck up."
Alexander told Buzzfeed that his decision to post the photo came out of frustration, but that the reaction to it had been mostly positive. "I was frustrated, but decided to use humor rather than waste my energy on people who clearly don't understand what they're against," he said.
The internet proved helpful once again when it came to Alexander discovering The OA. He was able to audition for the show thanks to a post about an open casting call for young trans actors that circulated on Tumblr. The casting call specified that The OA was looking to cast a fourteen or fifteen year old Asian transgender actor as a series regular, which is pretty much all the information that's out there about Buck currently.
The show's dedication to finding a trans actor to play a trans character is admirable because so many projects neglect to do even that much and that's something that has to change. There is a ton of trans talent out there just waiting to be discovered, and it seems like The OA may have found a perfect fit in Alexander.