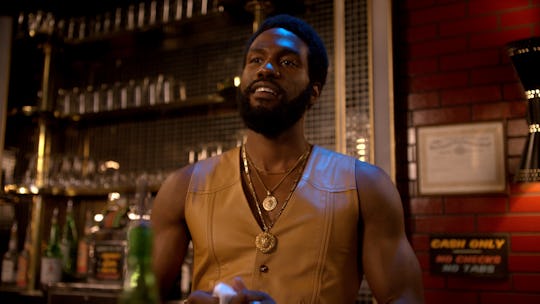 Netflix
Who Plays Cadillac On 'The Get Down'? His Career Is About To Explode
The Get Down is about to introduce a whole lot of new rising talent, young stars primed to show the world what they've got to offer. The series creates a world packed with rich characters, from teens looking to make their start in the music scene to more established success stories to the questionable figures on the fringes. One of less morally upstanding characters is Cadillac, who owns the club Les Inferno and has impressive connections. He's also fairly sleazy, creeping up on teenage Mylene with promises of singing career success – for a price. (Thankfully, she's not having it.) But who plays Cadillac on The Get Down?
Actor Yahya Abdul-Mateen II takes on the role, his first major one, though he's got more than a few upcoming projects in the pipeline, which is no surprise. Cadillac may be a creep by Abdul-Mateen portrays him perfectly, and the character is a stark contrast to his cheerful and charming offscreen persona. It also doesn't hurt that Cadillac has some real nice moves. After The Get Down, Abdul-Mateen will be appearing in Sidney Hall, Boundaries, and Bay Watch, all set to premiere in 2017. He may be fresh out of drama school, but he's already making a splash.
Baz Luhrman described Cadillac as "a prince of the disco floor and somewhat kingpin of the underworld," going on to praise Abdul-Mateen for his performance and express excitement for getting to work with him. Though The Get Down is his debut, Abdul-Mateen already has some serious acting credentials as a graduate of the Yale School of Drama, where he won the Herschel Williams Prize for outstanding acting ability (which was awarded previously to another graduate, Lupita Nyong'o). Abdul-Mateen's career has advanced swiftly, and he almost wasn't an actor at all; he'd studied architecture in school but was intrigued by acting and gave himself three years to see if he could make a career out of it. Just a few years after that decision, he landed the role of Cadillac.
In an interview in Interview, Abdul-Mateen spoke of his personal connection to the material. "I'm from a place where young people traditionally do not have resources," he says. He grew up in New Orleans before his family moved to Oakland, California. "This is the same story. We see young people turning that situation into possibility. They move the rubble and that becomes a space to dance. I love how rebellious it is, creating something out of nothing."
Abdul-Mateen's rapid success reflects some of the stories at the heart of The Get Down, where talent can be a ticket to a brand new world.