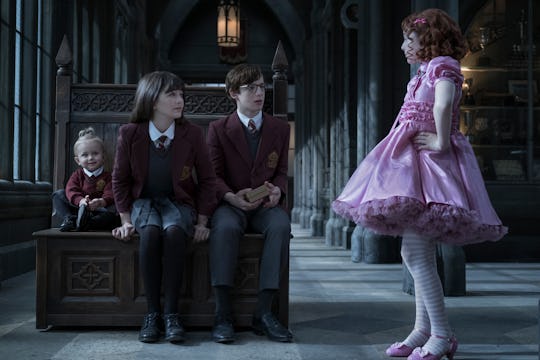 Joseph Lederer/Netflix
Carmelita Spats Is The Breakout Villain Of 'A Series Of Unfortunate Events' Season 2
In the first episode of the second season of A Series of Unfortunate Events, viewers were introduced to Carmelita Spats, a tyrannical student at the Prufrock Preparatory School, the place where the Baudelaire children are currently residing. Carmelita has a high opinion of herself for someone so unrelentingly awful, and her entertaining (but irritating) charms are a credit to the actress portraying her. But who plays Carmelita Spats on A Series of Unfortunate Events?
Kitana Turnbull has the pleasure of taking on the most privileged kid at Prufrock. Carmelita gets to do pretty much whatever she wants because the headmaster finds her so adorable, and that includes skipping out on the school uniform in favor of a pink pinafore and tap shoes. She takes what she wants and does what she likes, never failing to push painfully at people's buttons and call them "cake-sniffers." Carmelita might be inexplicably popular, but she's also a total bully.
Turnbull brings a maniacal edge to Carmelita that makes it clear how she ended up in her position of power. She also discovers a kindred spirit in the villainous Count Olaf and figures out a way to get him into Prufrock despite the highly advanced computer system put in place to keep him out. But that's probably not the only trouble she'll cause for the Baudelaires and their new friends, the Quagmires.
For her part, Turnbull is a young actress who is well on her way to building an impressive resume. According to IMDB, she began acting in shorts before graduating to TV shows and TV movies. She went on to snag a role in the feature film The Bachelors, and she also took on some voice work in Penn Zero: Part-Time Hero, Elena of Avalor, and Shimmer and Shine. You might recognize the sound of her voice from that kid-friendly fare, as it seems like ASOUE is her biggest live action role so far. Not that you'd ever know it from her performance, which is on par with some of the pros on the show.
Turnbull has a YouTube channel that showcases her past work, including commercials as well as musical performances. It seems like music is as much of an interest for her as acting is. The channel hasn't been updated in a year, but it can give interested viewers a glimpse at what she was up to before her days playing Carmelita. For more up-to-date information, there's Turnbull's Instagram account, where she posts pictures with her Netflix co-stars and models merchandise sporting her character's cake-sniffer catchphrase.
Turnbull's career might just be beginning, but she already earned a few rave reviews for her starring role in the 2014 short film Monster In A House. It was about a young girl named Miah who saw a monster every time her parents fought and had to learn how to defeat it. Several positive reviews can be found on director Christiano Dias' website, and the blog The Independent Critic praised Turnbull, saying:
Newcomer Kitana Turnbull is a young actress to watch. She exudes an almost heartbreaking vulnerability as Miah, embodying this young girl being enveloped by this monster that has been created. If you watch her face and you watch her body language, you will be simply mesmerized.
It looks like Turnbull is off to an auspicious start as an actress, and her scene-stealing spot on ASOUE only confirms that. Carmelita might be heaping even more cruelty upon classmates who have already had more than their fair share of misfortune, but Turnbull makes the most of her appearances. In a series populated with quite a few memorable villains, Turnbull's Carmelita makes an impact even in just one episode.
Check out Romper's new video series, Romper's Doula Diaries:
Watch full episodes of Romper's Doula Diaries on Facebook Watch.