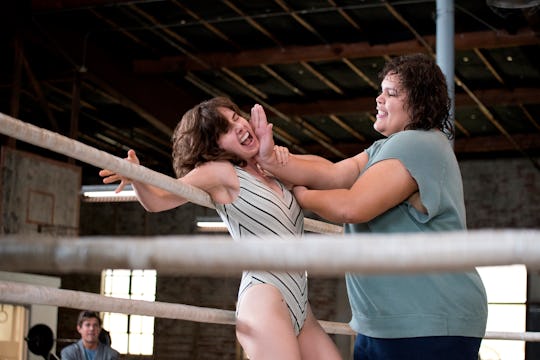 Erica Parise/Netflix
Carmen From 'GLOW' Is Just As Lovable Outside Of The Show
Alison Brie is pretty much golden as the lead on GLOW, but there are more than a dozen other women who play important roles as wrestling entertainers with their own backstories, including the actress who plays Carmen on GLOW. Britney Young might not be as experienced as some of the other bigger names in the new Netflix series, but she's been excited about the show from the jump and it kind of makes you love her already.
In an interview with Wrestling-Online.com, Young talked about her quick fascination for the real life GLOW (which stands for Gorgeous Ladies Of Wrestling) upon which the series is based. Initially, she didn't even know what it was, but once the casting office for GLOW sent over a YouTube video from the original series, she was instantly hooked. "After watching it for the first time, I said to myself 'what is this? I have to be a part of it!,'" Young admitted "And it sent me down a YouTube rabbit hole where I watched pretty much all of the available clips of the show online."
But because she came to want the role so badly, Young didn't think she did so great in her audition and initially assumed that accidentally falling in her first audition would end up costing her the role. "I will be totally honest though, even though I had fun I didn't think I did a great job," she told the site. "I really wanted the role, and I think that made me a bit nervous."
But in the end, Young was given the role of Carmen on GLOW, even if her start in show business was more of a behind-the-scenes kind of thing. She started out working as a production assistant and secretary as well as accounting clerk on movies like Savages and R.I.P.D., but eventually she realized she wanted to break into acting.
"So I reached out to friends who were actors and asked for their advice on how to transition into acting," Young stated in the same interview. "And one of my very dear friends Marquel put me in her web series and from there I met my manager who starting sending me out on auditions."
From there, Young appeared on the TV show Crazy Ex-Girlfriend and had a recurring role on TruTV's Those Who Can't. But it seems like her role as Carmen on GLOW is what she's really excited about lately.
Young's role on GLOW isn't her first by any means, but as a Netflix series with big names behind it, it's definitely an impressive move for Young's career. And she seems totally humbled by it.