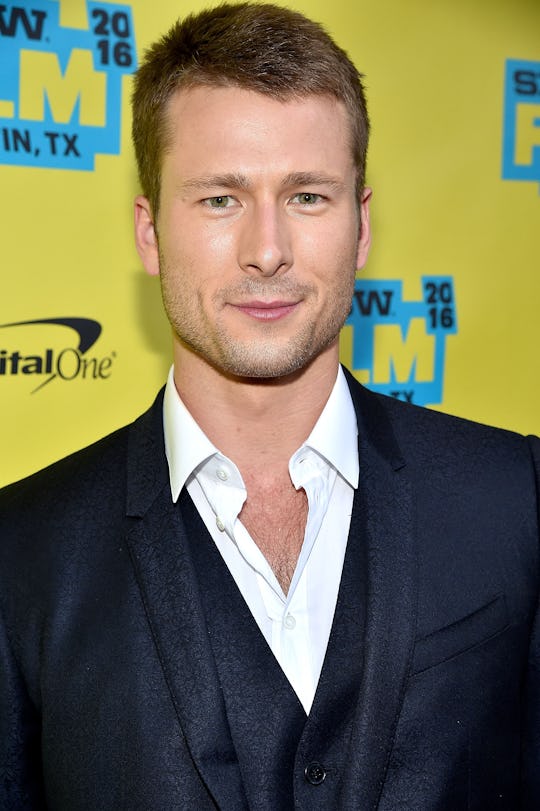 Mike Windle/Getty Images Entertainment/Getty Images
Who Plays Chad On 'Scream Queens'? Only Glen Powell Can Deliver These 5 Chad Lines
If there was one thing that was consistent about the first season of Scream Queens, it was that Chad Radwell – the vain, corpse-obsessed frat boy dating Emma Roberts' Chanel Oberlin – stole every scene he was in. He had a way of maximizing the hilarity of every gesture and every line, selling even the most ridiculous of jokes thanks to his delivery. Chad could have been a relatively tired archetype in the wrong hands, but thanks to the actor playing him he shined, making Chad one of the standouts of the season. But who plays Chad on Scream Queens?
Glen Powell is the actor behind everyone's favorite frat boy, a 27-year-old Texas native who has been acting for the last thirteen years. His first role was in 2003's Spy Kids 3-D: Game Over, but it was a part in Denzel Washington's The Great Debaters that got him noticed by an agent. Powell has been working steadily over the years with small or supporting roles in film and television, but Scream Queens is his first regular TV gig. It seems to have led to good things, too, as he's earned roles in Richard Linklater's Everybody Wants Some!! and upcoming film Hidden Figures, alongside stars like Taraji P. Henson and Octavia Spencer. He'll also be appearing in the romcom Set It Up opposite Emilia Clarke and the Iraq war drama Sand Castle – two seriously different types of movies. It'll be interesting to see if Powell navigates drama as effortlessly as he does comedy.
Powell is well aware of Chad's appeal, telling Variety that Chad is "just a guy who's there to make you laugh, so that's why I kind of love him so much. There's no real plot pressure. There are very few plot scenes that you need to cloud your brain with. Chad was just there for fun and it just worked because it's so well-written."
In the spirit of Powell's skill at being comic relief, here are some of Chad's funniest lines.
On Having Confidence & Standards
"My ego, it's super-strong. Okay? But it's not strong enough that I can just go around dating garbage people."
Breaking Up With Class & Sensitivity
"Okay, look, I was waiting to talk to you about this because secretly I was hoping you'd be killed and I wouldn't have to hurt your feelings. I just don't think it would work out with us. You're nuts. And not like a typical crazy-ass co-ed but 'wake up with my penis in a jar' lunatic. Now that puts me in a tough spot because that also means you'd be the screw of my life. I mean that kind of insanity means your muffin is like Space Mountain levels of fun. I love Space Mountain. Best ride at Disneyland. But I love my penis more."
How To Threaten People With No Ambiguity
"You WILL get murdered, Pete Martinez! Murdered to death."
Advice On Conflict Resolution
"Are you gonna make a habit of just, like, pushing people down the stairs? 'Cause I think we can agree: not the most adult form of conflict resolution, Chanel."
Understanding The Nature Of Time
Hester: Well, I guess we'll just have to see how it goes bringing Chanel home for Thanksgiving.
Chad: Yeah, I guess we will see, as that's what's going to happen.
Hester: I guess we'll just have to wait and see.
Chad: Yeah, we will wait and see, as Thanksgiving is an event that takes place in the future and therefore it hasn't happened yet.
Hester: We'll see.
Chad: Yep, sure will, as the arrow of time flows in one direction causing future events to flow inexorably towards us.
It's uncertain what the future will hold for Chad Radwell, so we'll all just have to wait and see as Season 2 flows inexorably toward us.