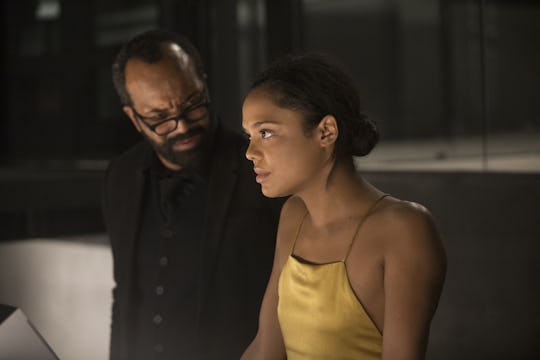 John P. Johnson/HBO
Charlotte Hale May Bring A New Kind Of Villainy To 'Westworld'
Westworld is back for another season and it doesn't look too good for the humans. The hosts have become sentient and they're out for blood. One of their targets may be Charlotte Hale, the Executive Director of the board of Delos Destinations, Inc., the company behind Westworld. Although Charlotte appeared in the first season, she has a bigger role in Season 2 and you may find yourself asking: who plays Charlotte Hale on Westworld? Many will probably recognize her from a certain Marvel movie.
Tess Thompson plays Charlotte and she excels in the role. Thompson has become more and more well known recently as she's gotten big roles in blockbuster films. Most recently, she starred in Thor: Ragnarok as Valkyrie, Thor's reluctant ally and potential love interest. Unfortunately, it doesn't look like she'll be making a return appearance in Avengers: Infinity War. However, with such a packed schedule it's understandable.
Besides Ragnarok, Thompson has recently had roles in the films Annihilation, Furlough, Sorry to Bother You, South Dakota, War on Everyone, and Salt Water. Prior to that, you may recall seeing Thompson in the Rocky spin-off, Creed. She'll be reprising her role in the movie's sequel, which is due out later this year. Thompson also played Diane Nash in the Oscar-nominated film, Selma, and she was the original Samantha White in the film Dear White People, which was later turned into a Netflix series.
Before she started scoring roles on the big screen, Thompson started in TV shows. She had a major role in the popular series Veronica Mars as Jackie Cook and a two-episode role on Grey's Anatomy as Camille Travis, Dr. Webber's niece. Following Grey's, she went on to have a starring role on the short lived drama series, Hidden Palms, and then had smaller roles on Mental, Private Practice, Heroes, Three Rivers, Blue Belle, Rizzoli & Isles, and 666 Park Avenue. In 2012 she was cast in a starring role on BBC America's Copper, which was unfortunately cancelled after two seasons. However, it was after Copper that Thompson's film career really picked up and Westworld marks her first big return to television.
When Thompson's not busy killing it on the big and small screens, she's also starring in music videos. She first made an appearance in Janelle Monáe's music video for "Yoga" which came out in 2015. More recently, Thompson has now appeared in two of Monáe's recent music videos for "Make Me Feel," and "PYNK." Besides her continued working relationship with Monáe, Thompson also starred in JAY-Z's music video for his song "Moonlight," off his latest album, 4:44.
With all of that going on, it's a wonder how Thompson finds any kind of down time and what she does with it. Thompson keeps her personal life pretty private with only 10 posts total on her Instagram, and her Twitter being a fun place to find goat videos, but not anything about her private life. That being said, it's clear that Thompson loves to mess around and poke fun at herself. She's pretty interactive with her fans and shows support to her friends, like Monáe and the casts of Dear White People (the show) and Westworld.
No doubt this is only just the beginning for Thompson and it'll be exciting to see her back on Westworld and what she does after that. You can catch the premiere of the new season of Westworld on Sunday, April 22 at 9 p.m. ET on HBO. Don't miss it!
Check out Romper's new video series, Romper's Doula Diaries:
Watch full episodes of Romper's Doula Diaries on Facebook Watch.