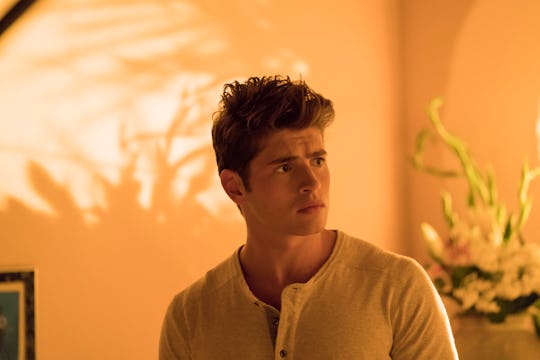 Greg Lewis/Hulu
Chase Stein From 'Runaways' Is The Perfect Addition To The Cast
If you were on the fence about starting Hulu's new Marvel adaptation about a group of teen superheroes, you might change your mind when you find out who plays Chase Stein on Runaways. He's been in a ton of shows you've probably watched and are a fan of, which means that this one will be no different. Chase is played by Gregg Sulkin, whose most notable roles to date were playing Mason Greyback in theWizards of Waverly Place and Ezra's little brother Wes in Pretty Little Liars.
In addition to those roles, he's also been in a few made-for-TV movies, some other short-lived series, and even voiced an animated character in Frog Kingdom, according to his IMDB profile. As great as all of the roles were, it's likely that Runaways, which is streaming now on Hulu, is going to be the *big one* for Sulkin, as will most likely also be the case for many of his other cast mates who are fairly new to the entertainment business.
Sulkin is also playing a male part in a predominantly female superhero gang this time, which he's pretty excited about. He told Rotten Tomatoes in a cast interview, "It's definitely empowering. I think it is vital that the goal of society is equality. Equality is there for everybody to see." Oh, let's hope all of young Hollywood agrees with him — the business could use that kind of fresh thinking these days.
The 25-year-old London native is also ready for the Marvel fandom, but given that he's been a part of PLL and Wizards of Waverly Place, he's used to the attention that comes with popular shows, which the Runaways will likely become once everyone tunes in.
He told Collider in an interview, "The fandom is really humbling to me, and it's really sweet and flattering, but at the same time, the most important thing is the show and the quality of the show. Hopefully, fans love it, and if they love it, I'm more than happy to bring them along for the ride."
Sulkin added that he's just grateful for the gig. "I don't know if any human being is ever ready for fandom, but you try to deal with it the best way possible. You just enjoy it and be grateful, and you see where it takes you."
Sulkin understands that #fangirl life when it comes to his personal comings and goings, too. The actor is Bella Thorne's ex-boyfriend and their relationship widely photographed, if you're into following paparazzi pics, which might be how you recognize him, if not from his acting.
He and Thorne broke up after a year together in 2016 after releasing an exclusive statement to People:
After much thought and soul-searching, we have made the difficult decision to end our relationship. We will always love each other and have a deep respect for one another, as we have each grown to be better people because of our time together. Our schedules made seeing each other difficult, and we decided that for now this would be best.
However, he and Bella are definitely still friends. This summer, she posted a throwback pic of them together for his birthday and they were spotted out and about, according to The Daily Mail. But it's understandable that the two young stars don't want to date exclusively while their respective acting careers are blowing up. Friendships and romance are important, but so is working.
And Sulkin was very busy last year. In preparation for Runaways, he also had to get super fit. He told Men's Journal that after he was cast he had to change his whole lifestyle. "After being cast, I had to force myself to have a celery stick instead of cake," he said. That also meant a lot of time at the gym and figuring out how he felt abou this body image and social media. Sulkin added:
I definitely feel the pressure of staying in shape. I've never felt confident taking my shirt off. [On social media] There's apps, there's face-tuning, there's lighting. You never get the real image. It's easy to get caught up in body image, but it's important for me to just feel healthier.
With that kind of attitude and focus on his work, Sulkin's bound to get more and more roles. And honestly, I'm so here for it.
Check out Romper's new video series, Romper's Doula Diaries:
Watch full episodes of Romper's Doula Diaries on Facebook Watch.