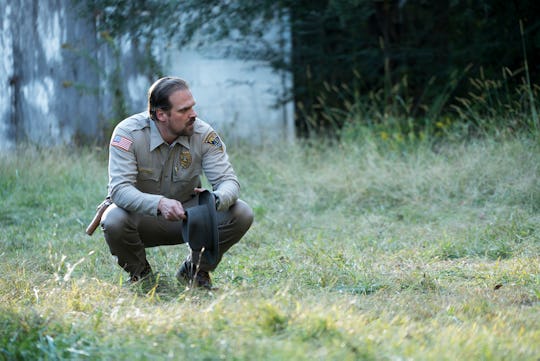 Netflix
Who Plays Chief Hopper On 'Stranger Things'? David Harbour Is A Familiar Face To Viewers
The newest Netflix original series Stranger Things has been highly anticipated by viewers and critics alike ever since it was announced in June 2015. Many were particularly excited to see Winona Ryder in a starring role again, since the Academy Award-winning actress has only appeared in a handful of roles over the past five years. Ryder's portrayal of Stranger Things lead character Joyce, a single mother whose son mysteriously vanishes into thin air, marks one of her first major TV role. But Ryder is not the only familiar face starring in the new Netflix supernatural thriller. You'll almost certainly recognize character actor David Harbour, who plays Chief Hopper on Stranger Things.
Harbour is an American actor who has appeared in film, television, and theater in the past. Like most actors at the outset of their career, he got his start with bit parts on Law & Order and its various spin-offs, back in the early aughts. Beyond the Law & Order franchise, he's no stranger to other well-known television series – Harbour has also appeared in guest spots on shows including Lie to Me, Royal Pains, Elementary, and Banshee.
Chances are, if you don't recognize Harbour from one of his many one-off TV roles, you'll recognize him as a recurring character on one of several other critically-acclaimed series. He appeared as TV news anchor Elliot Hirsch on Aaron Sorkin's The Newsroom over the course of three seasons. Harbour also had a recurring role as scientist Dr. Reed Akley on the critically-beloved but woefully underrated WGA series Manhattan.
Outside of television, Harbour has also starred in several major films over the past few years.
Brokeback Mountain
Harbour appeared as Randall Malone, a lover of Jack (played by Jake Gyllenhaal).
Revolutionary Road
Harbour appeared alongside reunited Titanic stars Leonardo DiCaprio and Kate Winslet in the critically-acclaimed drama Revolutionary Road as their neighbor Shep Campbell.
Black Mass
Harbour was part of an ensemble all-star cast alongside Johnny Depp and Joel Edgerton in the 2015 biographical crime drama Black Mass. He played corrupt FBI agent John Morris.
Suicide Squad
Harbour was spotted on the set of the highly-anticipated upcoming DC Comics film Suicide Squad back in April 2015. Production is keeping the exact nature of his role under wraps – there is no character name listed for him on the film's IMDb and Wikipedia pages.
ScreenRant analyzed the Blitz trailer and took a stab at guessing his role. He appears in the first few seconds of the trailer, but we'll just need to wait and see what part he'll play.