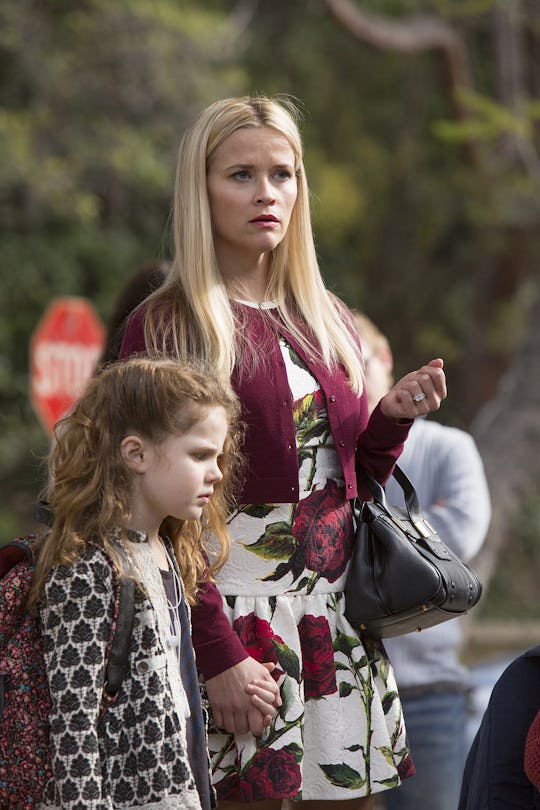 Hilary Bronwyn Gayle/courtesy of HBO
Madeline's Daughter On 'Big Little Lies' Is A Star
On HBO's new series, Big Little Lies, the children play just as important of a role as their parents do. The series, based on Liane Moriarty's novel by the same name, centers around a tragic elementary school Trivia Night and the players involved in the resulting death. The cast includes parents of the elementary school children in the town of Monterey, California — but these aren't ordinary parents. A character refers to them as "kamikazes," even worse than "helicopter parents." Their children, then, are a part of their parents' identities. So who plays Madeline's daughter, Chloe, on Big Little Lies? Darby Camp is no stranger to the camera.
One of the main characters in both the novel and series is Madeline, played by Reese Witherspoon. A mostly-stay-at-home mother who's not as rich as some of the other parents, Madeline does not hesitate to get in everyone's business. Perhaps this is because she has some drama in her own life: her ex-husband, Nathan, and his second wife, Bonnie, have a daughter the same age as Madeline's daughter with her second husband, Ed. To make matters worse, Madeline's teenaged daughter, Abigail, is starting to enjoy Bonnie's company more. Madeline, then, clings to her younger daughter, Chloe, portrayed by Darby Camp.
In the premiere of Big Little Lies, Chloe shines as much as her mother, Madeline. Not only is she immediately drawing a crowd during school, but she takes Ziggy under her wing. Ziggy is the son of Jane Chapman, who's new to Monterey and doesn't fit in the same mold as most of the other parents. Chloe quickly becomes Ziggy's first friend, and puts him at ease on the first day of school.
Chloe clearly gets her personality from her mother; she's personable and the center of attention. The actress, Camp, plays her true to how she is in the novel. According to her IMDB page, this is not Camp's first role, but it is her biggest one yet. If you recognize her, you may remember her from a 2015 episode of The Leftovers, where she played young Patti Levin. As Big Little Lies goes on, we'll see more of Chloe/Camp. She's an integral part of Madeline's character and motivations, as is the rest of Madeline's family. If Camp is as delightful in the rest of the series as she was in the premiere, I can't wait to see what she and her on-going playlist will do next.