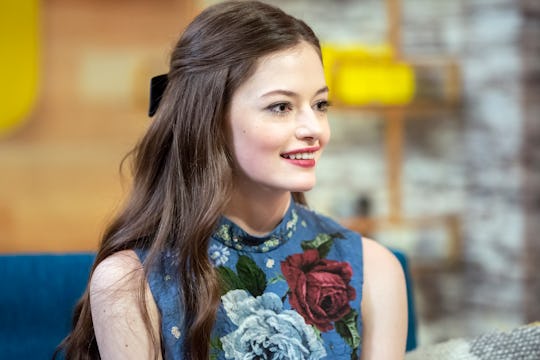 Rich Polk/Getty Images Entertainment/Getty Images
'The Nutcracker's Clara Might Look Familiar Due To This Major Film Franchise
Does the girl who plays Clara in The Nutcracker and the Four Realms look familiar to you? Well, there's a reason for that. Once upon a time in a land far away, young actress Mackenzie Foy played a CGI baby in the fifth and final Twilight movie. So, if you've been wondering who plays Clara in The Nutcracker and the Four Realms and why she looks so familiar, that's probably why. In the reimagined holiday classic brought to life by Disney, Foy plays Clara, a young girl who discovers a new, magical world that is in desperate need of her help.
For Foy, the release of The Nutcracker on Nov. 2, in which she takes the reigns as the iconic Clara, is an early birthday present. The actress turns 18 years old just a few days later on Nov. 10, which means she has plenty of reasons to celebrate this year. According to Wikipedia, Foy was born and raised in Los Angeles, California, and surprisingly, none of her family had any ties to the acting world. The site claims that Foy's father was a truck driver and her mother was a homemaker, but that didn't stop the young talent from finding her way into the spotlight.
At just three years old Foy started modeling, appearing in print ads for notable brands like Polo Ralph Lauren and Guess, claims Wikipedia. Six years later Foy began acting in guest starring roles on television, but it was in 2010 when she got her big break as Renesmee Cullen in the last two films of the Twilight franchise. Though she only appeared briefly in The Twilight Saga: Breaking Dawn — Part 1, Foy's character, Renesemee, was a vital part of the fifth and final film, The Twilight Saga: Breaking Dawn — Part 2., as J-14 reported.
For those of you who don't remember (or didn't see) the Twilight films, Renesmee was the half-human, half-vampire daughter born to Edward Cullen and Bella Swan. Not only does Renesmee age pretty quickly (like, almost overnight), but she also gets imprinted on by Bella's BFF and secondary love interest, Jacob Black. If you haven't read any of the Twilight books or seen any of the movies, you're probably pretty confused right now — and that's fair. But if you're super interested in Foy's career pre-Nutcracker, then I suggest scheduling a Twilight franchise viewing in your near future.
Though Twilight can be considered Foy's big break, she's appeared in five other movies since putting Renesemee behind her. In 2013 she played Cindy in The Conjuring alongside Patrick Wilson and Vera Farmiga, and in 2014 she played 10-year-old Murph in Interstellar.
When it came time to step into Clara's iconic shoes for The Nutcracker and the Four Realms, Foy spent time doing "a lot of figuring out the dialect, figuring out Clara's emotional complexity, who she is, who she will be, a lot of little things like that," she told The Hollywood Reporter in an interview. Needless to say, Foy definitely nailed Clara for the modern day audience!
The Nutcracker and the Four Realms arrives in theaters on Nov. 2, 2018.