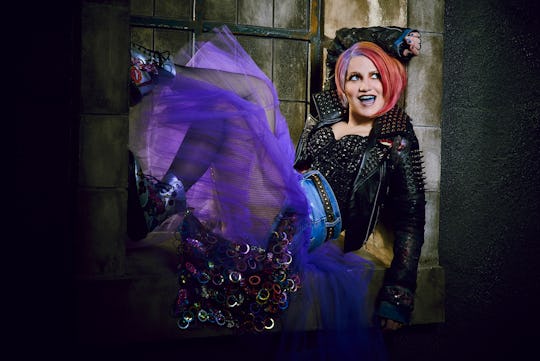 FOX
Who Plays Columbia In FOX's 'Rocky Horror'? The Remake Gets A Broadway Vet
On Thursday, October 20, FOX follows up the success of Grease Live with another musical special paying homage to The Rocky Horror Picture Show. While this event will be taped, the network managed to get some huge names behind the project. Laverne Cox, the only transwoman of color ever to be nominated for an acting Emmy, helms the cast as Dr. Frank N. Furter, and So You Think You Can Dance staple Kenny Ortega is directing. But everyone knows "the tap role" of Columbia is the feather in every triple-threat musical theater girl's cap. So who plays Columbia in Rocky Horror Picture Show? They snagged a Tony award-nominated actress for the part.
Annaleigh Ashford joined the cast to take over the role, amidst her wildly successful turn as Betty Dimello on Masters of Sex. She's been on the Showtime series for four seasons as the deeply endearing, no-nonsense brothel madam-turned-secretary, and just this week, aired her character's meatiest and most emotionally intense episode to date. No spoilers, but while we're mourning for Betty, Ashford is graciously giving us a break by getting back to her musical theater roots on TV in Rocky Horror. And with the great character roles she's booking on TV, it's no surprise she got her start on stage.
Last fall, she starred opposite Matthew Broderick in a Broadway revival of the AR Gurney play Sylvia. Earlier that year, she won Tony for her portrayal of Essie Carmichael in the revival of the play You Can't Take It With You, and in 2013, she was nominated for a Tony, originating a role in the Cyndi Lauper musical Kinky Boots. Ashford also did a fair number of TV episodes before Masters of Sex, booking roles on The Big C, Nurse Jackie, and Smash.
In Rocky Horror, she plays Columbia, a groupie living in Frank N. Furter's house, along with the rest of the help. Typically clad in the iconic glittering ringmaster outfit, Columbia gets a sassy tap solo in "The Time Warp" after explaining to Brad and Janet how she got sucked into Frank's posse. Unfortunately, her joy is short-lived. Columbia gets seduced by an ex named Eddie (played by Adam Lambert in the FOX tribute), whom — spoiler alert — Frank later kills in a jealous rage. In the end, she, too, dies, when Riff Raff and Magenta stage a coup, killing off Rocky, Columbia, and Frank in the process. Certain death aside, Columbia is a super fun role to play and Annaleigh Ashford is the perfect character actress to take on her infectious pep.