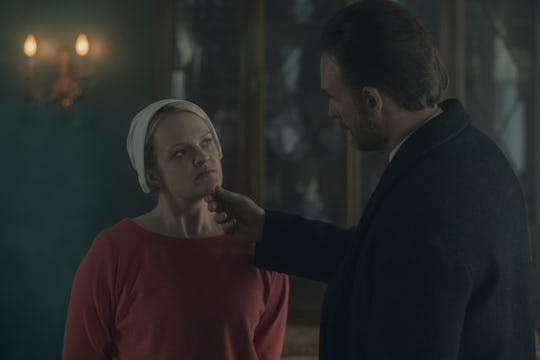 George Kraychyk/Hulu
Who Plays The New Commander On 'The Handmaid's Tale'?
After the shocking end to the sixth episode of The Handmaid's Tale Season 2, the show returned to reveal that Ofglen's suicide bombing took out more handmaids than commanders, but that's not to say her sacrifice was for nothing. Amongst the commanders who were killed was Commander Pryce, who was also the leader of the Eyes and Nick's real boss. With him gone, Commander Cushing stepped in as head of security, but who plays Commander Cushing on The Handmaid's Tale? He probably looks familiar.
Canadian actor Greg Bryk plays the latest terrifying Commander. Bryk has had a number of roles, both on the big screen and the small screen, but you may know him best from the Saw films, in which he played Mallick. Bryk was also in the movies The Pawn, Men with Brooms, A History of Violence, Neil, Shoot 'Em Up, The Incredible Hulk, Act of Dishonour, and Lost & Found. Bryk has also had a number of roles on TV. In the early 2000s he starred in the sci-fi mystery drama, ReGenesis, for four seasons. He's also had notable rules in the series Flashpoint, Covert Affairs, and Rookie Blue, before starring in the short lived drama series, XIII: The Series.
Following that, he made appearances on Nikita, Reign, Fargo, and The Expanse. He then starred in the SyFy original series, Bitten, as Jeremy Danvers, a werewolf. After the show was cancelled, Bryk continued do to TV work with appearances on Wynonna Earp, Mary Kills People, Saving Hope, and starred in the mini-series, Caught, as Cyril Carter. Besides his current role on The Handmaid's Tale, you can also currently see Bryk on the Netflix series, Frontier, alongside Jason Momoa.
When he's not acting in film or TV, Bryk also loans his voice to video games. He portrays preacher Joseph Seed in the Far Cry 5 game. In his personal life, Bryk has a beautiful family. He's been married to his wife, Danielle Bryk, for over 20 years and the couple have three children together. Although Danielle isn't an actress she also works in television as a HGTV Canada host.
Although Bryk appears to be a great guy in real life, it's fair to say most people hate him as Commander Cushing, and for good reason. In the latest episode of The Handmaid's Tale, Cushing did things his own way, which basically means he wasn't afraid to kill a Martha just reaching to get her ID because he believed she was about to commit some kind of act of terrorism. And with Commander Waterford still in the hospital, June was quite worried about Cushing's questioning and what that meant for her. A point she made quite clear to Serena, who surprisingly jumped into action.
Enlisting the help of Nick, Serena submitted paperwork on behalf of her husband that accused Cushing of being a terrorist himself, which led him to be picked up by the Eyes. Although this was certainly a win for the ladies, and Waterford's household as a whole, it's a little hard to believe this will really be the last we hear from Cushing. Then again, in Gilead, it really only takes a whisper for someone to be accused of treason, and in this case that whisper came from, or at least it looks like it came from, a Commander. That could be enough to send Cushing to his death.
So this may have been Bryk's final episode on the show, which is great for the characters, but a shame for fans. Bryk played the character well and he was appropriately terrifying. Though I can't say Cushing will be missed, it is a little disappointing that fans didn't get to see more of Bryk's amazing performance in the role.