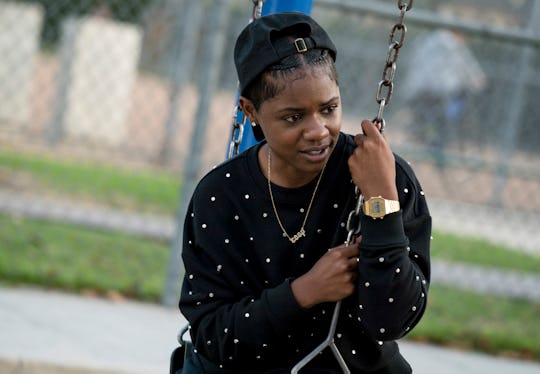 Jesse Giddings/The CW
Here's Where You Know Coop On 'All American' From
All American premiered this month on The CW, based on the true story of Spencer Paysinger, a a 30-year-old Super Bowl champ who played for the New York Giants, the Miami Dolphins, the New York Jets, and the Carolina Panthers before retiring. The character of Coop was originally based on Spencer's real-life best friend from South Central LA, but got gender-swapped for the show and re-written as a lesbian. So viewers may be wondering: who plays Coop on All-American? If you're an Empire fan, she may look familiar.
Coop is played by rapper/actor Bre-Z, best known for playing Freda Gatz, the daughter of Frank Gathers (played by Chris Rock), on Empire. She also landed a role in the TV miniseries The New Edition Story, so her series regular role on All American is a big step. Her character, Tiana 'Coop' Cooper, is Spencer's lesbian best friend from South Central, who gets somewhat left behind when he's scouted to play for the Beverly Hills High School football team. When Spencer transfers, Coop loses her protection in the halls of her Crenshaw high school, which is less than hospitable to its queer student population.
"With Coop, we're going to see that young girl finding herself," Bre-Z told the LA Times of her role. "She's dealing with sexuality, acceptance from her parents, acceptance from her peers and the acceptance within herself."
The "Real Spencer," as he's known on the set of the show, where he serves as a consulting producer, was also scouted from a poorly funded high school in South Central LA to play for the real Beverly Hills High School. He went on to play for the University of Oregon before joining the NFL, and Paysinger hopes the CW series based on his life, even though it's fictionalized in some parts, will illustrate how moving from an impoverished high school to an affluent one wasn't necessarily the big life-saving grace it's typically portrayed to be.
"It's easy to look at South Central and say, 'That's a bad place,' and it's easy to look at Beverly Hills and say, 'It will be a cakewalk,' but it just exposed me to a different set of problems," Paysinger said to Entertainment Weekly. "Both sides relate to each other more than they think."
The show hopes to shine a light on the culture shock that happens when black kids suddenly find themselves attending mostly white schools. All American plans to address racial issues with the help of Coach Billy Baker, played by Taye Diggs, and his biracial son Jordan, played by newcomer Michael Evans Behling, who also plays football for Beverly Hills High.
"We're going to talk about stuff like: Do black men need to leave their community and enter the white world to succeed? How does the community look at Billy's character for marrying a white woman?" the show's creator and former showrunner April Blair told Entertainment Weekly. "There's a lot of hot-button topics we want to talk about."
All American airs Wednesday nights on The CW.