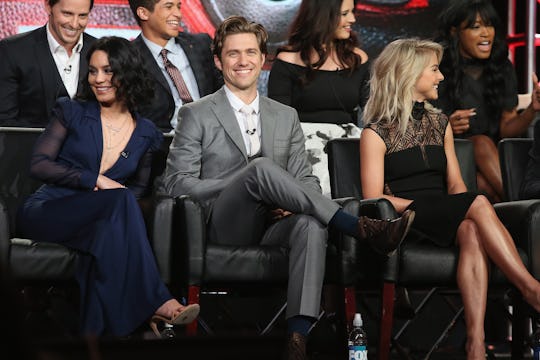 Frederick M. Brown/Getty Images
Who Plays Danny On 'Grease: Live?' Aaron Tveit Is Sure To Nail The Classic Role
Brace yourselves because Grease: Live will hit the small screen at the end of the month. Though the cast has been revealed for some time now, the fact that Aaron Tveit will play Danny Zuko in Grease: Live has the Internet too pumped. And why shouldn't it? Tveit will absolutely nail the role, and his impressive background proves this.
Grease: Live will air on Jan. 31 from 7-10 p.m. EST on Fox, Us Magazine reported. In addition to Tveit, the highly-anticipated show will feature Julianne Hough as Sandy, Vanessa Hudgens as Betsy Rizzo, and Keke Palmer as Marty. In addition to the star-studded cast, Grease: Live will include performances from Jessie J and Carly Rae Jepsen, according to People. So there's a ton to look forward to. And it appears that Tveit is just as excited as everyone else about all of this.
"I'm thrilled and honored to be joining this incredibly talented team of actors in re-imagining this classic and beloved musical," the 32-year-old wrote in a statement to Entertainment Weekly. "Playing Danny Zuko is a dream role and I can't wait to be a part of all the fun that comes along with performing live on television."
It's been good vibes all around since the Grease: Live casting went public last year. One person who's had especially high praises for Tveit's casting is Hudgens, who said in a recent Broadway Buzz interview that Tveit "[was] going to nail this character, he's got that cool."
Though this is a great experience to have under his belt, Tveit is quite the television star already. Besides Grease: Live, the actor has had roles on Ugly Betty and Gossip Girl, in addition to playing Enjolras in Les Misérables. He's also taken on several Broadway plays. (Where does he find all that time?) Tveit may be best known for playing Mike Warren on Graceland, a USA Network drama that remained on the air for three seasons until its cancellation in October 2015.
In August 2014, Tveit sat down with Harper's Bazaar and talked about playing an undercover cop and his acting chops. "I still take voice lessons when I'm in New York, and I sing everyday because it's a lot like everything else; you need to work it out," he said. "My [Graceland] castmates would tell you that I never stop singing. I have no concept that I'm doing it."
Tveit also said that he was "dying to get back on stage in New York, either with a play or a musical" post-Graceland. Needless to say, his wish has come true.
Image: Frederick M. Brown/Getty Images