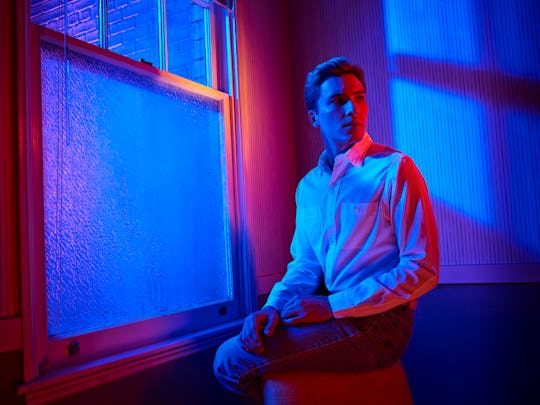 Pari Dukovic/FX
Meet The Actor Who Plays David Madson On 'The Assassination Of Gianni Versace'
In "House by the Lake," The Assassination of Gianni Versace depicts Andrew Cunanan's second murder and introduces an important person from his past at the same time. David Madson was Cunanan's ex-boyfriend, as well as the man Cunanan claimed was the love of his life, and he became Cunanan's second victim. It's a key role, so who plays David Madson on The Assassination of Gianni Versace?
Cody Fern is an Australian actor who is taking on his very first television role by appearing in the second season of American Crime Story as Madson. He has been in several short films before, including titles such as The Last Time I Saw Richard and 2017's Pisces (which he wrote and directed as well). His only feature film role was in The Tribes of Palos Verdes, and he also appeared in Audible's audio drama Christmas Eve 1914.
Additionally, Fern has performed on stage quite a bit. He played the titular romantic hero in Romeo and Juliet in 2011, then took on his first major theatre role in 2013 when he played Albert in War Horse. Director Drew Barr praised him to the Sidney Morning Herald, saying, "And working with Cody in the auditions, I just found that he embraced every challenge I threw at him with an incredible sense of willingness and enthusiasm and delight."
Shortly after that in 2014, Fern was awarded the Heath Ledger Scholarship by Australians in Film. The scholarship is handed out to emerging young Australian actors who, according to the organization's site, "show evidence of initiative and exceptional talent with ability to convert ambitions to reality." The scholarship provided him with $10,000 to get started, as well as a spot at the Stella Adler Academy of Acting and Theatre in L.A.
In speaking with The Daily Mail, Fern made it clear that earning the award was an honor for him, especially because Ledger was one of his heroes. "To be a part of Heath's legacy means the world to me," Fern said. "He's an inspiration, in particular because I come from Western Australia where he is a legend. Coming from a small town this wasn't a possibility, it was a dream."
According to the Daily Mail, Fern had initially considered a career in finance before deciding to switch gears and pursue acting instead. In an interview with Anthem Magazine, Fern explained what led him to his sudden career switch. And it was definitely sudden: Fern left the office during his lunch break and simply never returned. Acting was his dream, and he knew he had to try and make it a reality.
I was just a miserable human being when I was working in finance. I hated my life. I hated where I was going. I hated every part of it and knew that I had to do something radical — and fast. I was looking down at people's lives and thinking, 'Wow. This is not what I want my life to be. But I'm here and I'm doing it and I'm trying to fit in.'
After leaving the job he hated behind, Fern seemed to find the success he was seeking. With the help of the Heath Ledger Scholarship, he was able to relocate to L.A. and start getting roles in film and television. He may still be in the early stages of his career as an actor, but he's off to a good start. The Assassination of Gianni Versace is a big step that may lead to even more opportunities in the future — as fans of Ryan Murphy shows know, getting cast in one seems like it can keep an actor employed for life.
Check out Romper's new video series, Romper's Doula Diaries:
Watch full episodes of Romper's Doula Diaries on Facebook Watch.