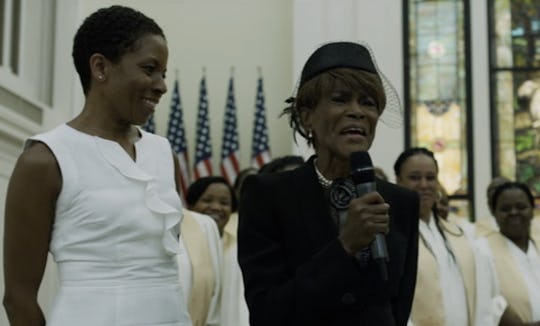 Netflix
Who Plays Doris Jones On 'House Of Cards'? Cicely Tyson Is A Problem For Claire Underwood
Another day, another House of Cards character we meet whose days are numbered. Even though it's too early on in the show to truly know who that soon-to-be dead character will be, it's not too soon to start hedging our bets, and if I'm being honest, I'm putting big money on the Texas Senator who's unwilling to fork over her seat (and her legacy) to Claire Underwood. But just who is Doris Jones on House of Cards? Cicely Tyson joined the Underwood Family Drama to portray the Texas Congresswoman, and though her character's presence has been under lock and key until this season's release, Jones makes a pretty noticeable splash in Episode 1.
Tyson's depiction of the Senator from Texas who plans to retire and pass on her seat to her daughter, Celia, is both bold and badass. She picks a fight with Claire Underwood in some of her first few scenes on the show, and if that's any indication of what's to come for Tyson's character, then I'm all for it. Exactly no one has ever willingly gone toe-to-toe with the First Lady of the United States and expected to come out on top or unscathed, but to be honest, I feel like if there's anyone to do it, it's Doris Jones. There's just something honest and accurate about her depiction, and it won't shock me if fans are rooting for her over Claire Underwood soon. (I know. I know. I know.)
Tyson's character roots stretch back all the way to 1957, where she was first cast in a number of Off-Broadway plays in New York City. In 1968, Tyson played the character Portia in The Heart Is a Lonely Hunter, and was nominated for an Academy Award for her role in the film Sounder in 1972. Tyson has two Emmy Awards to her name, one of which came from her role in the 1974 film The Autobiography of Miss Jane Pittman, where she was cast to play the 110-year-old former slave Jane Pittman. That year, Tyson became the first African American actress to win an Emmy in the Outstanding Lead Actress in a Television Movie category. When she took home a Tony Award in 2013 for the Best Performance by an Actress in a Leading Role in a Play (for her work in The Trip to Bountiful), she became the oldest person ever to win an acting Tony. As if her acting accolades weren't enough, Tyson was famously married to Miles Davis from 1981 to 1988. (Interestingly enough, IMDb notes that the two were married at Bill Cosby's home, where Cosby served as the Best Man and gave the bride away.)
But Tyson hasn't just been a name on the big screen. According to her IMDb page, she made appearances on TV shows Roots, King, and A Woman Called Moses, all of which took place during the 1970s, and she plays Annalise Keating's mom on the stand-out How to Get Away With Murder. Her IMDb page goes on to say that she has no appearance routinely in films "because of her loyalty to only portray strong, positive images of black women." Feeling like you've not yet done enough today? Let me remind you that Cicely Tyson's done all of that, and she's still hard at work at 91 years old.
House of Cards has, without a shadow of a doubt, found a star for the role of Doris Jones, and that's made Claire Underwood's bid for the Congressional seat in the 30 that much harder.