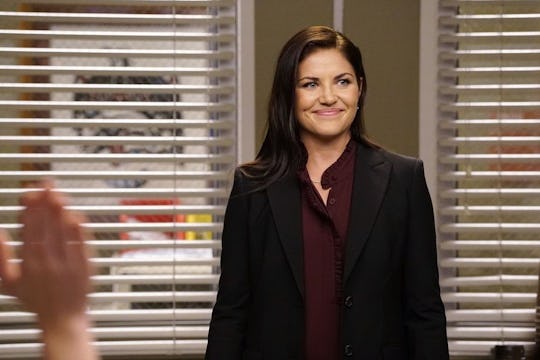 Kelsey McNeal/ABC
Who Plays Dr. Eliza Minnick On 'Grey's Anatomy'? Marika Dominczyk Joins The Hospital
There are always new characters coming to Grey Sloan Memorial Hospital and on last Thursday's episode of Grey's Anatomy a new doctor showed up to shake up the residency program. After Catherine Avery came to the conclusion that the doctors at the hospital might not be the problem but the way they teach is, she and Dr. Bailey got to work to look for someone to help the residency program become more innovative. That's when Grey's Anatomy introduced Dr. Eliza Minnick, played by Marika Dominczyk. Best known for her roles on Brothers & Sisters and Heist, the actress certainly didn't waste any time making a memorable mark on the hospital.
Dr. Bailey told the residents she was just a consultant coming to take a look at the residency program, but the truth was she was there to see if she'd want to accept a full time at Grey Sloan Memorial Hospital. Dr. Minnick already had most of the attendees on edge when she got all the residents and interns together to ask how they felt their education at the hospital was going. Dr. Minnick then started observing their surgeries, offering her own critics and suggestions, most of which were unwanted. Dr. Weber was annoyed with Dr. Minnick's presence, especially because he's the head of the residency program and had no idea she was coming. However, there was a very good reason why Dr. Weber was left out of the loop. Though Catherine and Dr. Bailey didn't say so out right, it was clear that Dr. Weber could possible be the problem for the lack of success in the residency program.
By the end of the episode, Dr. Webber came around to having Dr. Minnick at the hospital, but unfortunately she does want the job and she's not willing to share the position. As she told Dr. Bailey, if she accepts the job at Grey Sloan Memorial Hospital, Dr. Webber will have to go. Now Dr. Bailey has to decide if she's willing to fire Dr. Webber so they can give Dr. Minnick the job or forego Dr. Minnick and keep the man she's come to admire throughout most of her surgical career. However, if Catherine Avery has anything to say about it, her husband may be out of a job very soon.