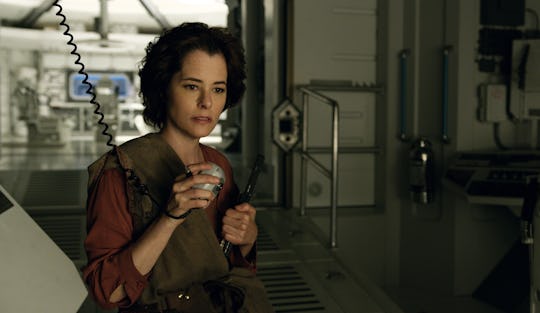 Netflix
Parker Posey's Role On Netflix's 'Lost In Space' Is Literally Out Of This World
If you watched the preview for the new Netflix series Lost in Space, you probably recognized at least one face in there. So who plays Dr. Smith on Lost in Space? Parker Posey is known colloquially as the Queen of Indies, and she is in some of my favorite movies ever made. There's practically no way you don't recognize her from something over the years, unless you've literally never seen a movie made in the '90s. Posey has acted in everything from a mean cheerleader to an overbearing dog owner. Now she's going to be playing a role that is quite literally out of this world.
The first Dr. Smith was played by Jonathan Harris in the original series, which aired back in the '60s. Harris' comedic take on the selfishly scheming character made him a fan-favorite, even though he was generally the root of all the Robinsons' problems. In the new role, Dr. Smith has been reimagined as a woman, played by Posey. And if anyone can make villainy charming, it's her.
There is perhaps one role in your mind that Posey played that stands out above the rest, but the fact is she's played it all. And she's particularly adept at a sort of winking devilishness that makes for an ideal Dr. Smith.
Showrunner Zach Estrin recently told the New York Daily News that they wanted to change the role's gender to hopefully avoid people associating the part too much with Harris' beloved character. "Someone like Parker Posey, who is so unique and gifted and special, can bring her own sense of deliciousness to this role," Estrin explained. It's true that Posey brings something special to each of her roles. Personally, I've always seen her as Meg Swan from the mockumentary Best in Show, shrieking at her husband at the dog show to find their dog's busy bee toy or else the dog was going to "freak out!" But Posey's career started way before that.
Her first big break is often considered to be her role in Richard Linklater's Dazed and Confused where she played head cheerleader Darla, best known for hazing the poor freshmen girls in the school parking lot while the nerdy boys looked on. Posey's also known for House of Yes, Scream 3, You've Got Mail, and small but well-regarded films like Daytrippers. She recently did a few interviews about her Netflix movie Mascots, another Christopher Guest mockumentary, this one about, well, mascots.
Guest's mockumentary movies are always particularly fun, as well as a good way to show off the extraordinary talent of its actors because the lines are all improvised on camera. Posey is obviously a master at this, though she doesn't seem to agree in an interview with The Guardian. "I still don't think I'm actually good at it. It's like a f*cking miracle when I finish a scene," she told the outlet. "On the first day we got through it, I was just so relieved. Every time I do something, I worry it's my last job."
While speaking with Interview magazine, Posey went into a little more detail about what she's been doing aside from acting, which includes writing a book. "I guess it's kind of memoir writing. It's an adult coloring book as well," she stated. "I've done a lot of crafts in my day. I learned how to do pottery, yoga … and I just wanted to share and talk and write."
I think we can all agree that there's no such thing as having too much Posey in our lives, which makes her debut in this new Netflix series all the more exciting. I can't wait to see what she does with this formidable character.
Check out Romper's new video series, Romper's Doula Diaries:
Watch full episodes of Romper's Doula Diaries on Facebook Watch.