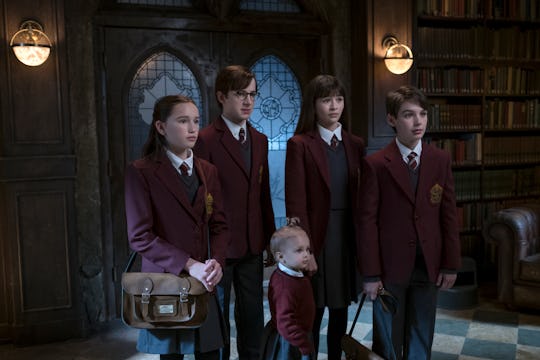 Joseph Lederer/Netflix
Duncan Quagmire Plays A Big Role In Season 2 Of 'A Series Of Unfortunate Events'
In Season 2 of A Series of Unfortunate Events, the Baudelaire children cross paths with another set of orphans at the Prufrock Preparatory School named Duncan and Isadora Quagmire. Much like the Baudelaires, the Quagmires lost their family in a fire, which means they're sure to be important to the story going forward. Since audiences will be seeing a lot of the Quagmires, they might be wondering who plays Duncan Quagmire on ASOUE?
Duncan (and his missing brother Quigley, the third Quagmire triplet) is played by a young actor named Dylan Kingwell. According to the biography provided on IMDB, Kingwell is Canadian and hails from Vancouver in British Columbia. He's a kid with many interests, with everything from the outdoors and sports (hockey especially) to reading and science listed among his main interests. Acting seems to be his primary passion, however, and he's already crafted quite a career for someone who just turned thirteen. He's appeared in numerous commercials (including but not limited to Crayola, Nintendo 3 DS, and Samsung) but his amount of TV credits are even more impressive.
In addition to ASOUE, Kingwell has had recurring roles on The Returned and The Good Doctor, where you may have seen him show up as Steve Murphy and Evan Gallico. But those aren't the only parts on television that Kingwell has snagged.
Kingwell's first acting credit was a small role in the 2011 TV movie To the Mat, and more TV movies followed. He seems to have specialized in the holiday genre, appearing in Ice Sculpture Christmas, The Christmas Note, and Wish Upon a Christmas. However, he's also popped up in non-holiday fare such as The Wilding, Manny Dearest, Campfire Kiss, and Escape from Mr. Lemoncello's Library, as well as episodes of The Tomorrow People and Supernatural. So far his only feature film role was a bit part in Big Eyes, but it seems like Kingwell's success will continue based on how well it's been going for him so far.
In an interview with My Devotional Thoughts, Kingwell spoke about what drew him to acting in the first place. He has been working for most of his life and according to him, his desire to perform started when he was only three years old:
I was a really social kid. My mom would take me to Starbucks, and I would actually go around and talk to people. I would go, 'Hi, my name is Dylan,' to people I didn't even know. At the time, my mom and dad thought it would be a fun thing for me to do. So we sent out a letter to a few agencies, asking for representation, and we went into see a few different people. One of the agents we went to — I impressed her by reciting a book that my mom had been reading to me. It was a children's picture book, and I didn't know how to read, but she always read it to me, so I remembered it. As a result of that, my agent signed me, and I started doing commercials almost right away.
In another interview with the same site, Kingwell gave readers a hint as to how often Duncan will be appearing in the next two seasons of ASOUE. Kingwell explained that he would be in half of Season 2, but that wouldn't be the end of Duncan:
What they're doing is shooting seasons two and three all together. We're taking a break for November and December and then coming back to shoot season three in January.
Book fans might have already expected to see Duncan again, but now TV viewers can rest assured that he won't meet an unfortunate end anytime soon.
Check out Romper's new video series, Romper's Doula Diaries:
Watch full episodes of Romper's Doula Diaries on Facebook Watch.