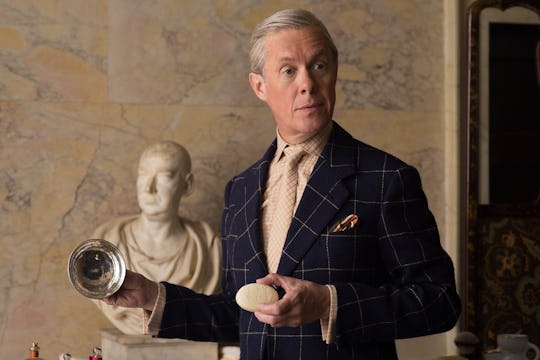 Netflix
Who Plays Edward VIII On 'The Crown'? Alex Jennings Has Played A Royal Before
Netflix put it's full backing behind it's latest historical drama, The Crown. The show is the most expensive series to date, coming in at around $100 million for it's first two seasons and it's clear the money went to good use. Besides the amazing costumes that are used in the show, the cast is also phenomenally talented. But while there's a lot of great actors of note on the show, one person in particular who has caught the public's eye is Alex Jennings, who plays King Edward VIII on The Crown. Or, as fans come to know him on the show, King George VI's older brother.
This isn't the first time Jennings has been tapped to play a British royal. In fact, he's played monarchs and political figures in the past. Most recently he played the role of King Leopold in the TV series Victoria and back in 2006 he played Prince Charles in the film The Queen. He's also played the role of Sir Winston Churchill in the Great Britons mini-series, King George III in Liberty! The American Revolution mini-series, and King Ferdinand in the TV movie Bye Bye Columbus. Besides playing monarchs and politicians, Jennings has also played a multitude of a various different roles over the span of his more than 30-year acting career. So it's no surprise that he was picked to play the role of Edward and that he played it so well.
In The Crown, Edward is actually referred to as David, the Duke of Windsor because he abdicated his throne. Prior to where the show begins (and as viewers see in flashbacks), Edward was made king after his father died in 1936, but early into his reign he fell in love with Wallis Simpson, an American who was in the middle of getting her second divorce. So as you may suspect, when King Edward VIII wanted to marry her, the Church of England instantly opposed the union. But King Edward was stubborn and refused to end their relationship, which resulted in him abdicating his throne and becoming the Duke of Windsor, so that he was free to marry who he wanted, while leaving his brother to take up the royal reigns.
Edward's singular decision altered the lives of many of the other British royals since he changed the order of succession. Edward's younger brother, King George VI, succeeded him, thereby making it possible for Queen Elizabeth II to eventually wear the crown. Talk about a high-stakes domino effect!
You can now watch all 10 episodes of The Crown, which are available for streaming only on Netflix.