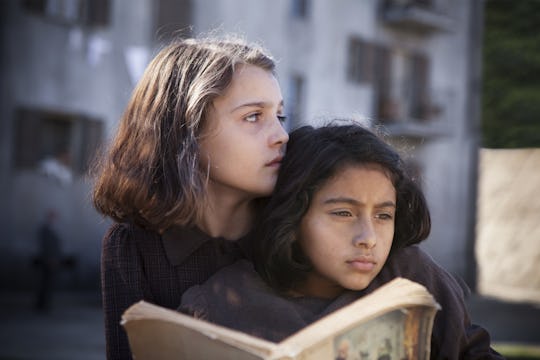 HBO
The Character On Elena On 'My Brilliant Friend' Is Played By These Three Actors
You've probably heard that Elena Ferrante's powerful novel, My Brilliant Friend, has been adapted into a miniseries, currently airing on HBO. The first of four novels follows Elena Greco, a girl growing up in Naples in the mid-20th century, through her complicated friendship with another girl in her small village, Lila Cerullo. The multiple actors who play these two pivotal characters are new faces on the small screen, and the young actresses who plays Elena on My Brilliant Friend are no different.
To say the casting process for the show was a lot of work is an understatement. In order to find the perfect Elena(s), writer and director Saverio Costanzo, who was hand-picked by author Elena Ferrante to helm the project, sought out only children from Naples, and had a very specific look and personality in mind. He took this directly from the descriptions that Ferrante (a pseudonym) wrote in the first of her quartet of book, known as the Neapolitan Novel. The conversational tone of the story showcases such a range of emotions that must be depicted by the narrator and lead character, and it was essential that he found an age-appropriate actress to take on such an intense and difficult role.
Though the book features the girls over many years, it would have been difficult to employ that many different actors, so most of the children are portrayed by just two different people. For most of the series teenage Elena is front and center. Played by Margherita Mazzucco, Lena (or Lenu), as she's typically known, struggles with her changing friendship with Lila, as well as her changing body and the difficulty of her schooling. Mazzucco had never acted prior to My Brilliant Friend, and ended up at the audition after seeing a flier for an open casting call. Her similarities to the character, especially in personality, were what made her stand out. Like the narrator of the story, Mazzucco describes herself as someone who doesn't wear her heart on her sleeve. "I had to make many things understood through my eyes, through my expression," she said in an interview with Vulture.
The girl who played young Lena, though she received less overall screen time, was tasked with meeting the audiences' first expectations of the character. Elisa del Genio was, like Mazzucco, an inexperienced actress. She didn't even attend the audition for herself initially, accompanying her brother who was trying out for the role of Enzo. Del Genio related to her character in one very specific way: she, too, has a best friend with whom she argues frequently.
Whereas the other children are portrayed by only two actors, Elena gets a bonus appearance: The story begins with an adult Lena, who learns that her childhood best friend has disappeared without a trace. She then recounts the story, serving as the narrator. Adult Elena is portrayed by Elsabetta De Palo, who has acted in Italian-language projects such as dramedy Perfetti sconosciuti (Perfect Strangers) and crime series Suburra. But though she's the most accomplished of the three Lenas, she is arguably the least important, as this is truly a coming-of-age story that relies on the child actresses to depict the range of emotions that Ferrante's story demands.
This first-time mom wants to have a home birth, but is she ready? Watch how a doula supports a military mom who's determined to have a home birth in Episode One of Romper's Doula Diaries, Season Two, below. Visit Bustle Digital Group's YouTube page for the next three episodes, launching Mondays in December.