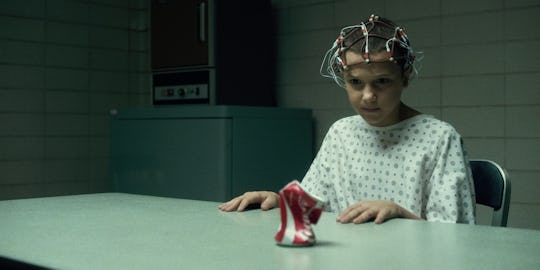 Netflix
Who Plays Eleven On 'Stranger Things'? She's A Complicated Character
There are more than a few young actors making their star turns on Netflix's Stranger Things, but even in a cast that's great across the board, there are still standouts. Eleven, a mysterious little girl who is named after the number printed on her arm, would be a demanding role for any actor, child or not. She has to convey a whole host of complicated characteristics: incredible suffering, wisdom beyond her years, power and vulnerability. Through all that, she still has to seem like a real child who only wants to feel safe and loved. Impressively, the actress manages all of this. So who plays Eleven on Stranger Things?
Millie Bobby Brown is the actress behind Eleven. Though she's only 12, she's no novice when it comes to acting, and her television experience has clearly helped her hone her craft. Before Stranger Things, Brown appeared in several different television shows, including Once Upon A Time In Wonderland, Intruders, NCIS, Modern Family, and Grey's Anatomy. She received praise for her role as Madison O'Donnell on Intruders, making it clear she had something special right from the start. Madison was Brown's first big role and the complexities of the part gave her a primer on playing complicated characters.
In Intruders, Brown plays a little girl whose body is taken over by an adult male serial killer, with both souls fighting for control over the body. It provided her quite the range of emotions to pull off, making it no surprise that just a few years later she was able to portray Eleven so well. Capturing the ambiguity and struggle of characters who have been through a lot, and can manage to seem both young and old at once, is clearly a talent of Brown's. And it's not her only one.
Though her American accent might throw you off, Brown is actually a British actress with a talent for copying accents. Being a surprisingly well-travelled kid probably helped too: Brown was born in Spain, grew up in the UK, and got her acting start in the States. After answering an ad for an acting school in Florida during a trip there, her family was encouraged to take her to Los Angeles, where she quickly landed an agent. She's been grabbing roles regularly ever since, though Stranger Things is likely to push her into the stratosphere.
She is definitely a rising star to watch.