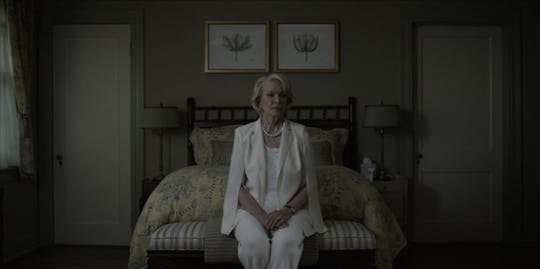 Netflix
Who Plays Elizabeth Hale's Butler On 'House of Cards' Season 4? Aaron Marcus Is The Strong, Silent Type
House of Cards is off to a pretty spectacular start, and with the introduction of Claire's mom, Elizabeth Hale, the Hale estate in Highland Park, Dallas, Texas, and a slew of other new characters from the Lone Star state, the stakes are already pretty high on Claire's political future, especially given the fact that things between the First Couple remain so up in the air at this point. But there's one brand new character on board in the Hale family that doesn't say much, despite the fact that his presence speaks volumes. Shortly after arriving at her parents' estate in Dallas, we're gifted with the realization that the First Lady isn't alone. So who plays the butler on House of Cards? Aaron Marcus is on board this season at the Hale home in Highland Park as the character "Michael," and it's not really clear exactly what his job is: butler? Home aide? Live-in caretaker? Family member?
Regardless of what he does, Michael is there, in the flesh, when Claire arrives at the home. And he's a major player in the scene when we meet him, because he's our gateway to Elizabeth Hale. It's pretty soon revealed that Michael is on-hand because because Hale has been engaged in a three-year battle with Lymphoma. Judging entirely by the look on Claire's face as Frank plays his strongest card in order to win his wife and co-manipulator back, it's a cancer battle Claire had no clue was even going on.
There's so little known about Michael — who is he? Hired help? A friend? A lover? A relative? A caregiver entrusted to Hale during the course of her treatment from a third-party healthcare provider? — and judging from the fact that he doesn't say much, here's guessing that it'll be some time before we figure out the roots of his character on House of Cards. I'm all for new characters (and this year, House of Cards enlisted a ton of them), but I am much more interested in finding out how each one plays into the larger, more important story: Frank's bid for the White House, and Claire's need to have a professional career and an existence that doesn't rely or orbit solely around her husband's.
Judging from the fact that Elizabeth Hale seems hellbent on uprooting Frank's place in her daughter's heart — and from the fact that wherever Hale goes, Michael seems to follow close by — my guess is we're going to be seeing much more of the strong, silent Michael.