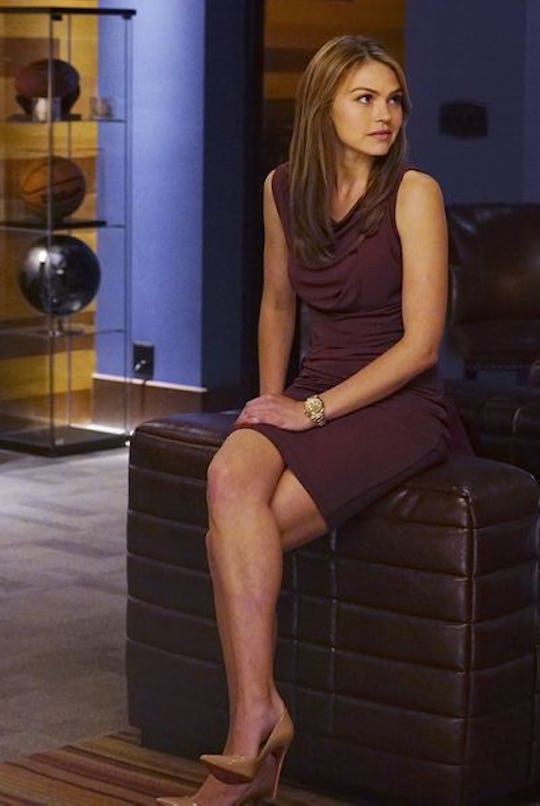 Richard Cartwright/ABC
Who Plays Ella On 'Notorious'? Aimee Teegarden Used To Be A Fan Of Football
Although Notorious revolves around the lives of Julia George (Piper Perabo) and Jake Gregorian (Daniel Sunjata), it's their teams that really keeps the show interesting. Where would Julia be if she didn't have Megan (Sepideh Moafi) filling her in with the latest dirt and Ryan (Ryan Guzman) hacking into computers and taking sneaky pictures? Similarly, Jake would be lost without his brother, Bradley (J. August Richards), and Ella who's played by Aimee Teegarden on Notorious. Ella in particular has been an excellent asset for Jake and on Thursday night's episode "Tell Me a Secret," we got to learn more about her past.
If Ella looks familiar it's probably because you've seen the actress before. Teegarden is best known for playing the role of Julie Taylor on the popular football drama, Friday Night Lights. (Clear eyes, full hearts, can't lose!) Teegarden also starred in the web series Aim High, and The CW sci-fi drama Star-Crossed before making her way over to Notorious as Ella. And while at first it seemed like Ella was just Jake's assistant, she's recently stepped more into the spotlight in the most recent episodes. First we saw her team up with Ryan so they could figure out what exactly Levi was up to and together they were able to discover that Levi was Catfishing Oscar.
In the following episode, Ella used her brilliance to discover who had a hand in the killing of a popular college football player. Using a fictional app, she was able to suss out the two football players who were involved in hazing their now-deceased teammate and helped crack the case. Moreover, we also finally learned more about Ella as a person and her past. After an ongoing flirtation, Ryan finally asked Ella out on a date and we learned that she was actually homeschooled growing up. Then later, Ella revealed to Ryan that she actually lives in a motel because growing up she and her mom moved around a lot living in different hotels. So when Ella finally had enough money to get her own apartment, she felt uncomfortable in it and moved out, choosing to live in a motel room instead, where she felt more at home.
Unsurprisingly, Ella and Ryan ended up hooking up by the end of the episode, but will this relationship actually be able to last? We'll just have to wait and see, but for now they do make a really good team.